Review 2023 Honda Civic Type R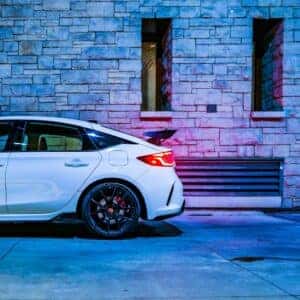 Widened fenders extend over a wider track; as is today's fashion, the wheels are matte black instead of white, with spindly spokes, wrapped in wide 265-section Michelin Pilot Sport 4S rubber. The blacked-out rear wing is big, but it sits on top of delicate supports, and disappears visually thanks to its black paint; down below, there are three centrally-mounted exhaust pipes. And then there are those red enamel Honda badges, reserved only for the company's most special models, there on the front, rear, and wheels.
Open the surprisingly lightweight door and the formula is familiar if you're a fan of Type-R cars. The interior is simple in design, though still very well-made; the materials are durable and feel high-quality, but they're not luxurious. The colour scheme is dominated by bright red – on the carpets, most of the seat surfaces, and accents like the shift pattern and steering wheel badge. The seats themselves are fantastic, some of the best you'll experience in any car: while they're a little difficult to get into, their side bolsters provide exceptional support in corners, yet they have a soft, comfortable layer of foam that makes them fine for longer drives. The driving position itself is perfect, with the metal pedals, metal shifter, and small leather-wrapped steering wheel exactly where you want them to be.
There is a lot more technology in the new Type-R than in previous models; today's buyers, and today's legislation, demand it. But Honda has worked hard to ensure none of the tech is intrusive. While there is, for example, active cruise control and lane departure warning, they can be silenced so you only get visual cues on the dashboard, without audible warnings or any other intervention.
The important controls are also all physical knobs and buttons, too. The climate control system is operated with three big knobs and a handful of switches, and drive modes are selected with a rocker switch. While infotainment functions are consolidated in a dash-top touch screen, like almost everything these days, there's still a physical volume knob, and buttons to return to the home screen. You rarely need to dive into the system as it's so simple and easy to use, but wireless Android Auto and Apple CarPlay are standard, and there's also a convenient charging tray for your phone.
Under the Type-R's hood is a 2.0-litre turbocharged four-cylinder, which seems to be the standard format for a four-cylinder engine these days. It's not like the screaming, naturally-aspirated Type-R engines of old, but anyone that says this isn't a special engine hasn't experienced it. While the redline is a relatively modest 7,000 rpm, the way it gets there is still packed with excitement. It has a rich, thrummy idle, and feels pleasingly mechanical as you drive off. There's a bit of turbo lag before the boost blends in, and then a huge, swelling rush as the torque builds. Total output is 315 horsepower and 310 lb-ft of torque, but the Type-R's engine feels way stronger than that; this is a seriously fast car in any gear at any speed.
More impressive than the pure speed is the drivetrain's character. There's something addictive about the way the engine builds power and the way it sounds that's always goading you into driving it just a little bit harder than you should. The six-speed shifter is one of the best you'll drive in any car, with tight, clearly-defined gates, a wonderfully mechanical action, and a billet-aluminum knob that makes every shift feel special.
Four drive modes are available; comfort, sport, and R+ progressively up the suspension stiffness, lower the steering assistance, sharpen the throttle response, and amplify the sound from the exhaust. The fourth setting, individual, lets you define your own preferences. For road driving, I found the most aggressive drivetrain settings worked best with the middle setting for the steering and the softest suspension to be the best compromise, offering acceptable ride quality in the city while still delivering the race-car feel you'd want from a Type-R.
At speed on a good road, it's sometimes easy to forget that the Type-R is based on a compact, mass-market hatchback, it's that good. The steering has fantastic feel and is so perfectly-weighted, so precise. The brake feel is rock-solid, the front four-piston Brembos offering tireless stopping power. Grip from the widened suspension and the fat Michelins is staggering in the wet or dry. Most importantly, the whole setup is incredibly responsive to your inputs. Thanks to the helical limited-slip differential, you can adjust the throttle in a corner to alter your line without it ever feeling unsafe, and get back on the power surprisingly early. The chassis feels simultaneously glued to the tarmac while being on its tip-toes, ready for the next change of direction.
There's something in the way the Civic Type-R's suspension has been set up, the rigidity of its body structure, and the way the controls communicate so directly that gives it a really tough, unflappable quality. It's happier the harder you lean on it, with a real feeling of integrity and solidity. While it's a front-wheel drive hatchback with four doors, the closest comparison I can draw is to a Porsche 911 GT3 in the way it feels – a remarkable achievement given its relatively humble beginnings and its relatively humble price.
Plus, you get all of this excitement and quality without losing anything that makes a regular Civic so great, and that has kept it at the top of Canadian sales charts for so long. It's spacious, comfortable, and practical, with impressive room in the back and a huge cargo area; at a highway cruise, it sips fuel like an economy car; and it's likely to be as dependable, and have the same great resale value, as any other Honda.
Really, outside of that wing, which some people may not like, the only bad thing about the Civic Type-R is that Honda's not making enough of them to satisfy demand.