Pfaff Motorsports Unveils Paint IT Plaid Project At Sema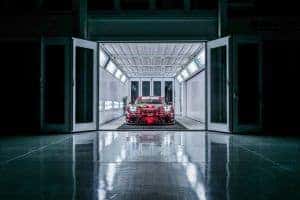 Just weeks after winning the 2022 IMSA WeatherTech SportsCar Championship GTD Pro title, Pfaff Motorsports is westbound with its No. 9 Driveway Porsche 911 GT3 R.
From Nov. 1 – 4, the winningest 991.2 GT3 R in IMSA history will be on display at the SEMA Show in Las Vegas, Nevada, albeit with a change. Rather than appearing with a wrapped version of the famous plaid livery that the team carried throughout the season, the Porsche underwent a transformation after the season finale for a unique project called "Paint It Plaid."
Using the environmentally friendly Glasurit 100 Line process, the wrap on the racecar was painted and finished in less than 20 days – including all aspects of the distinctive and complex plaid pattern, driver flags, and the many series and sponsor logos.
The project was executed by Pfaff Autoworks, a certified Porsche collision center, at its new facility in Markham, Ontario. The highly efficient 100 Line paint process allowed for fast application, easy finishing, flawless overcoating and tape resistance for multi-color finishes.
At SEMA, the Driveway Porsche will be on display at the BASF booth, located in Central Hall at Booth #20365.
"Our Porsche 911 GT3 R has an amazing pedigree with 11 wins, five pole positions and two championships, so we felt it fitting to immortalize its well-loved livery in partnership with Glasurit," said Pfaff Motorsports General Manager, Steve Bortolotti. "They have been a long-time supporter of our racing efforts and a great partner at our Pfaff Autoworks bodyshops. We are very impressed with the artistry of the team at Autoworks, and are happy to be sharing our project with all of the attendees at SEMA."
About Pfaff Motorsports
Pfaff Motorsports has established itself as one of the most successful sportscar racing programs in North America over the past decade. A professional team in the International Motor Sports Association (IMSA), it has established long-term partnerships with premium brands such as Lithia & Driveway, Motul, and Hagerty, and is one of the top-performing Porsche customer racing teams in the sport.
Pfaff Motorsports' competition résumé includes historic victories and championships across multiple series. Since joining the top-tier IMSA WeatherTech SportsCar Championship in 2019, the team has won the prestigious 24 Hours of Daytona and the 12 Hours of Sebring, in addition to being crowned 2021 WeatherTech Championship GTD champions. It has also won the 2018 GT World Challenge America championship and is a three-time Porsche GT3 Cup Challenge Canada champion. For more information, please visit