Pfaff Marine Adds Vanquish Yachts To Canadian Offering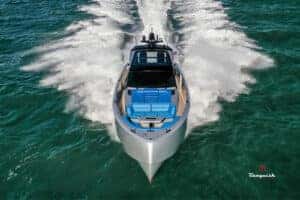 Pfaff Marine, a division of Pfaff Automotive Partners and Lithia Motors Inc. (NYSE:LAD) announced today it has added Dutch yacht builder Vanquish Yachts to its unique offering of premium marine products. Pfaff Marine will be the exclusive Canadian representative for Vanquish Yachts, and will support the brand with sales, marketing, and promotional events throughout Canada and North America.
Since its founding in 2012, Vanquish Yachts has established a reputation as a leading yacht manufacturer in the luxury yachting industry. With their unwavering commitment to quality, craftsmanship, customization, technology, and innovation, Vanquish Yachts continues to set new standards for excellence in the world of luxury yacht building and ensures that each yacht is a one-of-a-kind masterpiece that exceeds the expectations of its owners.
"We are very excited to develop this partnership with Vanquish Yachts," said Craig Cernak of Pfaff Marine. "Vanquish Yachts represents the same focus on quality and exclusivity of our automotive brand partners. Our clients now have access to the world-class quality and customer service which come with the ownership of a Vanquish Yacht."
Pfaff Marine was established in 2018 to provide sales, marketing, and brokerage of marine vessels across Canada. Pfaff Marine was also instrumental in bringing the leasing of boats and yachts into the Canadian marketplace and has been a pioneer in the leasing space in Canada for over 20 years.