Introducing: Carbon Marine's Paragon 28 SS
At Pfaff, we love things that go fast - whether that be on land, or in the water. And that's why we are thrilled to announce the custom build of our very own Carbon Marine watercraft.
Matching the aesthetics of our finest super cars, the Paragon is the only of its kind on the water. Using all carbon fiber for the boat's structure leads to a hull with significant performance enhancements in speed, rough water handling, and a dramatic reduction in fuel consumption. 
Carbon Marine boats are lighter, stronger, and faster than conventional fiberglass models with higher top speeds and superior gas mileage – an unheard-of combination. Carbon Marine is an industry leader - being one of the first to offer a fully carbon fiber production boat.  
Why Carbon Fiber?
Carbon fiber has revolutionized many industries, maximizing performance, weight, strength and desirability through premium aesthetic finishes. Many of our Pfaff brands such as Pagani, Porsche, and McLaren utilize carbon fiber in the construction of their vehicles. 
This movement to carbon is to take advantage of:
Unmatched power-to-weight ratio
Incredible fatigue, stiffness, corrosion and heat properties
Up to 10x stronger and 5x lighter than steel
Able to mold it into complex contours creating premium lines for optimal efficiency
Pfaff
We are excited to have commissioned one of the first Carbon Marine builds and customized it exclusively to be one of the most stunning boats on the water this summer. 
Built with the same materials as the world's finest supercars, the Paragon 28 SS has a top-end speed of 75mph and a cruising speed of 51mph. At 4500 lbs with fuel and water tanks full, the Paragon 28 SS handles like a supercar on water. The classic Deep V Hull is designed to cut through rough water, allowing the Paragon to run in all conditions while delivering passengers a smooth and comfortable ride.
Image: official rendering of our Pfaff Paragon 28 SS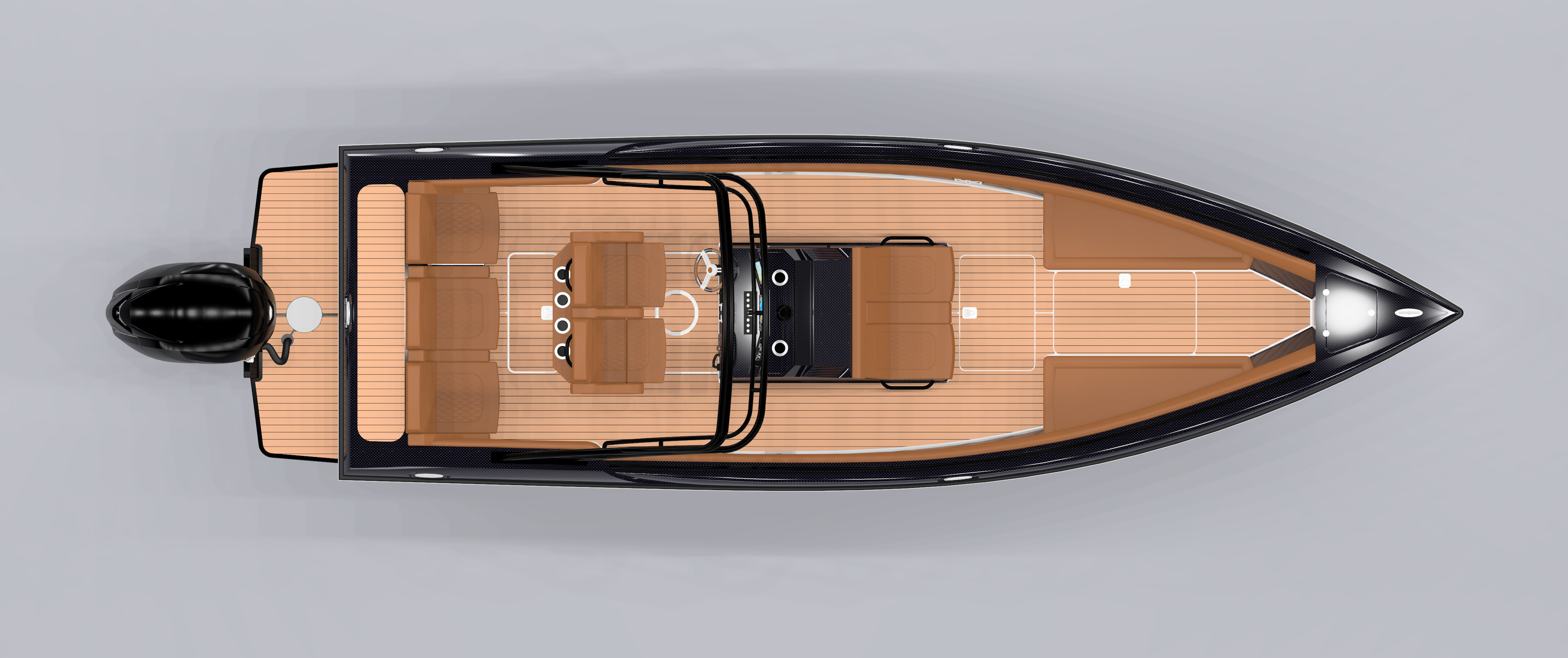 Made right here in Canada, the Paragon is designed to be a versatile day boat. Fish in the morning, get there and home fast and comfortably, pick up your family and head out for a day cruise. Whatever the occasion, the Paragon is designed to suit your needs.
Like many of our supercars, Carbon Marine's hulls are lighter, stronger, and faster than conventional fiberglass, leading to superior speeds and handling in all conditions, whether top-end or cruising.
Partnered with Seven Marine's 627hp supercharged V8 outboard, the Paragon 28 SS has an unmatched power-to-weight profile in its category and will change your perception of rough water handling for boats under 30 feet.