BLOG OCT 11ST, 2022
Putting the utility in sport utility
Many of us think of sport-utility vehicles as the ultimate in family transportation: spacious, versatile, with enough ground clearance for rough roads or cottage trails, and often the traction and stability benefits of all-wheel drive. It doesn't hurt that they're also stylish and offer a more rugged, outdoorsy image than a minivan or a station wagon. However, not all sport-utilities have the same balance of attributes. Indeed, many of them sacrifice too much of the utility aspect in exchange for that sporty image – thereby making them less optimal for family duties than they may seem.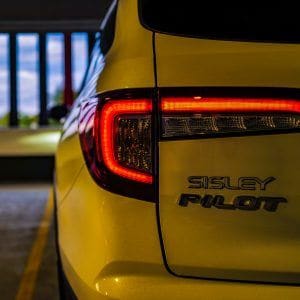 The Honda Pilot is not one of those SUVs.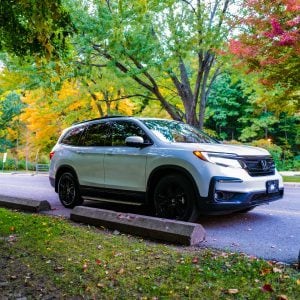 This is a big box on wheels – in the best way possible. While the current Pilot, on sale since 2016, has some nice angles and details to it, none of it comes at the expense of interior space. The body's sides and rear are near-vertical, meaning they don't encroach on shoulder or cargo room. The wheelbase is long, the track is wide, and the Pilot's unibody platform is exceptionally space-efficient.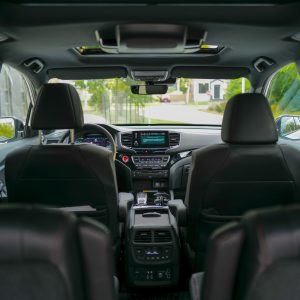 Space in the first two rows of seats is exceptional, almost minivan-like, and even the third row of seats is habitable by real human beings. With the third row of seats up, there's a decent, though not huge, amount of cargo space in the back, enough to hold a child's stroller and a few bags. The third row folds flat into the floor, making the Pilot a great cargo hauler in two-row configuration.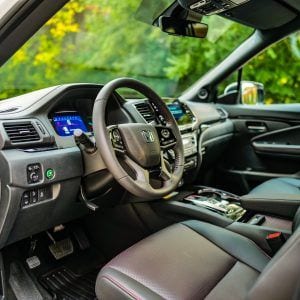 In typical Honda fashion, it's easy to get comfortable in the Pilot. The seats are easy to get in and out of, but provide good support. A wide range of adjustments for the driver's seat and steering wheel mean it can fit people of all statures. Thanks to the boxy design, seeing out and around is easy, and the ergonomics are amazing. There are real buttons and switches for most of the controls, and they're all easy to reach and understand. The infotainment system has a big touchscreen, but a physical volume knob and secondary steering wheel controls. It's all a welcome relief when so many vehicles resort completely to touch controls and confusing menus.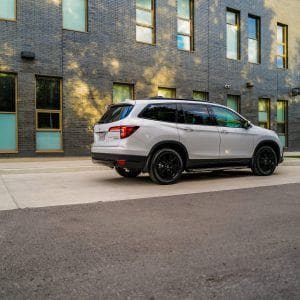 Some elements are feeling their age. The resolution of the reversing camera isn't great, and the menu system in the instrument cluster isn't connected to the menus in the infotainment system. While there is an inductive charging pad for your phone, a cord is required to take advantage of the included Android Auto and Apple CarPlay. The electronic gear selector, which has pushbuttons for park, drive, and neutral, but has a weird little hidden pull switch for reverse, isn't the most intuitive, either.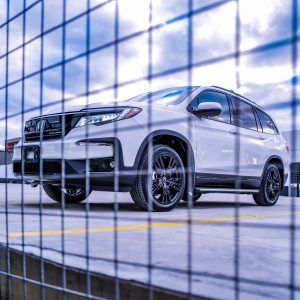 Drives like a Honda
Still, one of the best things about the Pilot is its drivetrain. There is nothing particularly high-tech about the naturally-aspirated 3.5-litre V6 and nine-speed automatic transmission. Its 280 hp and 262 lb-ft of torque aren't remarkable, nor are its fuel economy ratings of 12.4 city and 9.3 highway L/100 km. It's more about the way the power is delivered.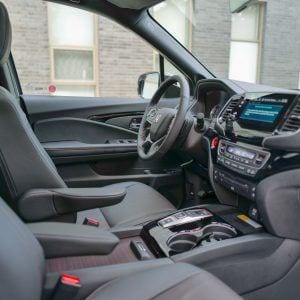 Honda engines have always been smooth, refined, and responsive, and the Pilot's V6 is no different: there's no annoying turbo lag when you ask for acceleration, and power builds in a linear, predictable manner that makes it very easy to drive and control. For the most part, the engine is almost silent – you barely notice when it shuts off at stop lights, or when it starts up again – but when accelerating briskly, it makes a nice snarl. Combined with the crisp shifting of the automatic transmission, the Pilot's engine makes it more fun to drive than it should be, for a bus this big.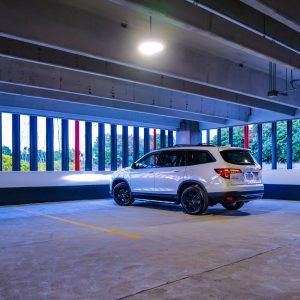 The same could be said for the rest of the Pilot's dynamic package. The steering is accurate, with a surprising amount of road feel. Shift paddles on the back of the wheel let you control the gears with click-click precision. The brake pedal has a nice progression and is easy to modulate (though, if you're used to German cars, it might feel oddly light for the first few blocks of driving). Altogether, the controls make the Pilot feel smaller and lighter on the road than it really is; it's actually kind of fun to hustle it around corners and along country roads and around on-ramps. Perhaps more pertinently, excellent outward visibility and a tight turning circle contribute to excellent maneuverability in the city.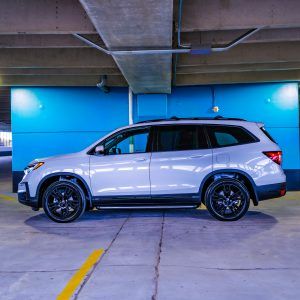 Every Pilot comes equipped with a suite of Honda Sensing active driver assists, including adaptive cruise control, forward collision warning, automatic pre-collision braking, lane keeping assist, automatic high beams, and blind spot monitoring. Touring and Black Edition models add a rear cross-traffic monitor as well. While you can adjust their sensitivity, the systems do come with a chorus of beeps and bongs, and can feel overly sensitive if you're used to driving in slice-and-dice city traffic. Still, these systems are worth their weight in gold when they do save you and your family from an accident, and it's nice to see the majority of them included on even the least expensive Pilot models.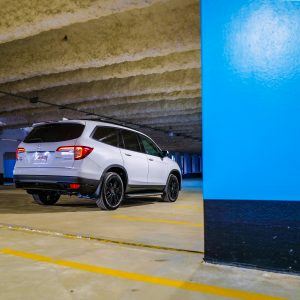 Reliability and resale
Speaking of which, $46,920 for the least-expensive Pilot Sport model may sound like a lot of money, but it's actually right at the average transaction price for a new vehicle in Canada. Which, when you consider you're getting a generously-sized three-row SUV with 20-inch wheels, a load of standard equipment, as well as strong Honda reliability and resale value, suddenly doesn't seem that bad. Several other models are available to meet specific needs, including an off-road focused Trailsport as well as the fully-loaded Black Edition that you see here. Priced at $58,420, it includes some gloss-black exterior trim elements, roof rails, black leather with contrasting red stitching, ventilated seats, rear-seat entertainment system, and much more.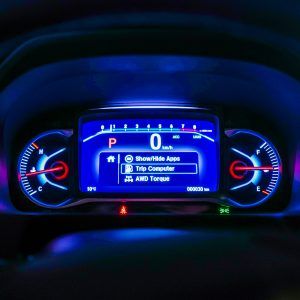 Regardless of which trim level you choose, rest assured you're getting an SUV with a relentless focus on utility. Which means that, while it isn't necessarily all that sexy, the Honda Pilot will make a great long-term companion for you and your family. It'll reward its driver and its passengers over the long haul, while asking little in return.