BLOG MAY 25TH, 2021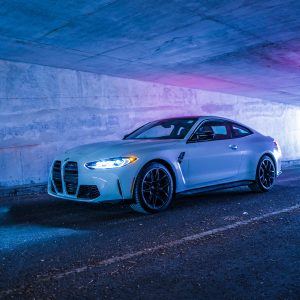 I'm a little conflicted by the new BMW M4. On the one hand, it is a magnificently capable automobile, with power, speed, handling, and comfort that give it one of the broadest and deepest operating envelopes of any car on sale today. On the other, for those of us that are enthusiasts of what I'd call "old-school" BMW M cars, it feels a little big, very technological, and its size means sometimes feels more like a GT than a purist's sports car.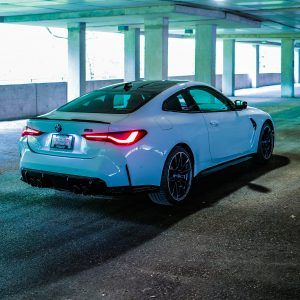 Browse our M3 and M4 inventory here.
Indeed, the car the new M4 reminds me most of is the V10-powered M6 first introduced in 2005, and a brief spec comparison reveals why. The E64 M6 measured 191" long by 73" wide with a 109" wheelbase; it weighed 3,900 lb and had 500 hp. This G82 M4 Competition is 190" long, 74" wide and has a 112" wheelbase; it weighs 3,709 lb and has 510 hp. Now powered by a twin-turbocharged straight-six, the M4 Competition has more power and torque than the M6, and despite a lot of extra equipment, it actually weighs less, and accelerates with far more urgency, delivering 100 km/h in under 4 seconds.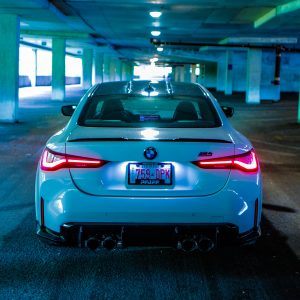 Browse our M3 and M4 inventory here.
Despite being down four cylinders, and with the theoretical muffling effect of those turbos, the way the M4 sounds, and the way it delivers its explosive power, will be familiar to anyone that's driven the V10. There's a great metallic rasp to its engine note that screams "race car," even when you're idling in your driveway. And, unlike most turbocharged engines, which deliver a slug off torque off the line then lose their excitement, the M4's motor rewards high revs, with power building and building as the digital tach needle climbs. This is a very, very fast car, and one that feels even faster than its impressive specs would suggest. It's so fast that you spend far less time "letting it off the leash" as you do seemingly holding it back; to do otherwise would risk major damage to your wallet and driving record.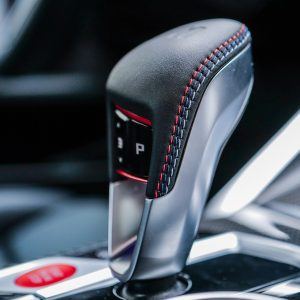 Browse our M3 and M4 inventory here.
The eight-speed automatic (standard on Competition models, optional on the 473-hp "base" M4) is, however, a far better dance partner than the V10 M6's SMG gearbox, which would lurch from gear to gear unless you were driving flat-out. In daily, around-town driving and in its least aggressive setting, the eight-speed is buttery-smooth and contributes to surprising fuel economy; dial up more aggressive modes, and it shifts with exactly the same speed and crispness as a dual-clutch gearbox as you click away at the carbon-fibre paddles.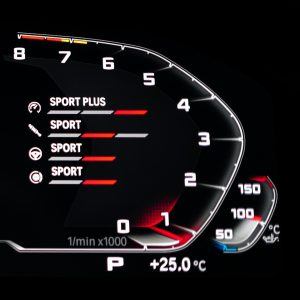 Browse our M3 and M4 inventory here.
Like most modern BMWs, almost every driving control can be adjusted. In addition to shift speed, you can control throttle response, steering weight, suspension stiffness, and even brake feel. There are so many combinations possible, including some potentially terrible ones, but the good news is that you can save two of your preferred setups to a set of switches on the steering wheel that work just like seat memory: get in, fire the car up, pick your favourite mode and go. (For the street, I found the best setup to be the softest suspension and lightest steering, with the most aggressive throttle and the fastest shifts, and sport brake feel; your mileage may vary.)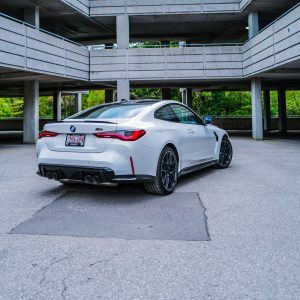 Browse our M3 and M4 inventory here.
This great variability could make the M4 "good at a lot of things, but great at nothing," but the truth is that, from a dynamic perspective, it's basically great at everything. If you want to screech around corners with the stability control off on a track and roast the rear tires in a couple laps, it'll do that, and do better than any similarly-priced sports car, and many more expensive ones. Dial the settings back to more comfort-oriented ones and the M4 makes a wonderful grand touring car – smooth-riding, swift, seamlessly-shifting, and with deep wells of power and torque, effortlessly powerful and able to waft along with the best of them, particularly when you activate the exhaust's quieter mode.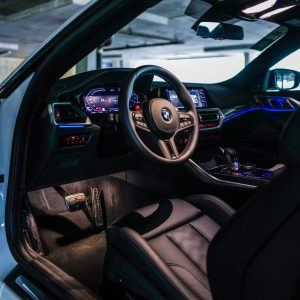 Browse our M3 and M4 inventory here.
One other reason the M4 makes such a great GT car is its interior, which is both spacious and beautifully made. The front seats are big, comfortable, and supportive; they have a huge range of adjustment, and head- and legroom is fantastic up front, and surprisingly good in the back. The M4's trunk is cavernous, and can easily accommodate golf bags or suitcases for a weekend away. Throughout, you're surrounded by high-quality materials including stitched leather on the dash, aluminum and carbon-fibre trim, and high-resolution digital displays. BMW's infotainment system is the best in the business these days – operable by touch, or with the circular iDrive controller on the console, which is far easier to use on the move. The Harman/Kardon stereo system is fantastic, and you can configure the digital gauge cluster to suit your exact needs.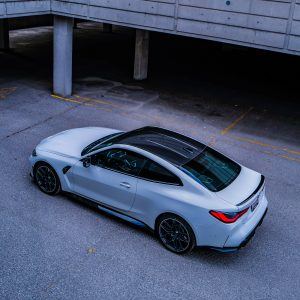 Browse our M3 and M4 inventory here.
The luxe interior, the space that comes with it, and the size that comes with it, is why I'm so conflicted about the new M4. On track, you don't notice its size (and weight) so much, but it's now big enough to be noticeable on the street, particularly when you add in the high beltline and thick roof pillars. While it's still a car that shrinks around you the faster you drive it, the M4 is now wide enough that you kind of bully it through corners, shoulders-out, versus carving a precise line in previous M3/M4 models.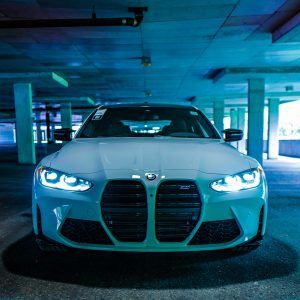 Browse our M3 and M4 inventory here.
This attitude is something backed by the M4's styling, which has definitely gotten tougher, wider, and more aggressive. Much ink has been spilled over the giant intakes at the front, but they've actually grown on me. I find that it's in profile, and from the rear, the new M4 looks a bit awkward, its boxy trunk set way up high (presumably to clear those golf clubs), with little of the shoulder-sculpting we've come to expect from M cars. Overall, it seems to have been deliberately designed to maximize its presence and its width, when a sports car should be lithe and nimble. A modern 911 (the car the M4 is compared with most often) is an educational comparison: it is not small either, the Porsche does feel a lot more manageable from behind the wheel, a product of its rear engine, its seating position, and its visibility.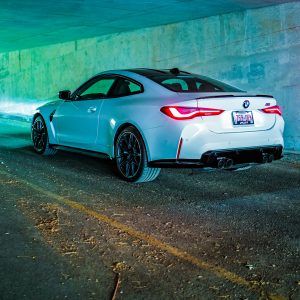 ?
Browse our M3 and M4 inventory here.
Nevertheless, the 911 still comes at a significant price premium to the M4 – figure on at least a $20,000 spread, for less horsepower and less acceleration. And it can't come close to the BMW's versatility; the M4 has better tech, genuinely usable back seats, a big trunk, and can crush long drives as comfortably as a Bentley. So while the M4 may have grown a bit too much to be a perfect sports car – the amazing M2 now wears that mantle proudly in BMW's lineup – as one car to do it all, it has very few peers.