A Supercar Street Party Is Coming To Niagara On The Lake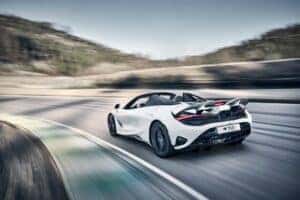 McLaren, the luxury British supercar brand, will celebrate a milestone 60th anniversary with a street party in partnership with 124 on Queen Hotel & Spa. On Saturday, June 3 from 4 to 6 PM, McLaren Automotive, known for its sports cars and iconic Formula 1 team, will take over a stretch of Queen Street in front of 124 on Queen Hotel & Spa. The road will be closed from Victoria to Gate Street in Niagara-on-the-Lake. On display will be a fleet of McLaren's high-performance supercars, part of a year-long, global 60th Anniversary celebration. The fleet will drive into position led by Lord Mayor Gary Zelepa.
"The town of Niagara-on-the-Lake has deep ties to its British heritage," says Alana Hurov, Marketing Director, 124 on Queen Hotel & Spa. "That's why we're excited to partner with this iconic British brand to help celebrate a remarkable history with a special community event for everyone to enjoy."
In the business of building high-performance road cars that are capable of putting Lamborghinis and Ferraris to shame, McLaren was founded in 1963 and based in Woking, England. The company quickly made a name for itself creating stunning, high performing supercars for the track, all boasting extreme power and the latest technologies.
Fans and car enthusiasts alike will be treated to a one-of-a-kind supercar display, street entertainment, live music by Undercover Duo, local vendors, artists, and more. Guests can also visit the hotel's new NOTL Lounge to enjoy themed cocktails like the McLaren High Octane and British-themed bites.
"The full force of McLaren will be on proud display in Niagara-on-the-Lake. We're excited to showcase our no restraints, no limitations designs that deliver the most thrilling driving experience imaginable," said Matthew Berenz, Marketing Coordinator for McLaren Toronto. "McLaren60 is a story for racing fans – it all began with our absolute love of racing, and that remains true to this day and beyond."
The company is also well- known for its winning Formula 1 team. McLaren is actually the second oldest F1 team, next to Ferrari. As part of the weekend celebration, McLaren car owners will enjoy a private dinner at Treadwell Cuisine and an overnight experience at the hotel.