BMW's i4 is an electric game-changer
Blog
Jun 20th, 2022
Sometimes, I think BMW doesn't get enough credit for how forward-thinking it is. The brand has often courted controversy with out-there styling that broke classical moulds – only to have the rest of the industry follow in its footsteps in subsequent years. BMW was the first to bring a big screen to vehicle dashboards, unifying the ever-multiplying entertainment and setup options in one place, with a single set of controls and menus – something which generated a ton of critical reaction at the time, but is standard for the industry today.
More importantly, BMW aggressively pursued electric when its German rivals were deep into diesel; the innovative i3 and i8 combined electric power with lightweight carbon-infused structures and tiny range-extender gas engines years before luxury brands were even thinking about electric.
Tesla may have been first to full-electric sedans with the Model S, but BMW's been working with EV technology for a decade – and their experience shows in the new i4, which is one of the most compelling new electric vehicles on the market from any brand.
What makes it so compelling? A combination of great EV features and performance with a familiar BMW look and feel – as well as a surprisingly impressive value proposition.
On the EV front, you have a substantial 87-kWh battery, the ability to DC fast-charge at up to 205 kW (not class-leading, but excellent), and enough range that you'll only ever experience range anxiety on the longest of drives. The i4's range prediction is eerily accurate, adjusting as you drive, helping guide you to more efficient driving habits. Eco Pro mode, which has more economical settings for everything from throttle response to air conditioning, has a noticeable effect on range without actually blunting performance. And there are three levels of regeneration available depending on how you like to drive. The most aggressive setting gives you Tesla-style one-pedal driving, while the lightest setting feels almost gasoline-like in how it freewheels on the highway and provides a gradual engine-braking effect at lower speeds.
Beyond that, the best thing about the i4 is that it drives like a BMW. The steering has a nice heft to it, and is so intuitive in the way it bends the car into corners with perfect feel and feedback. Cornering grip and stability is excellent. And, partly thanks to the weight of that big battery, partly thanks to astute suspension tuning, the ride quality is fantastic: even without the fancy adaptive dampers on the more expensive i4 M50 model, this sleek four-door coupe rides with fantastic fluency; you'd never guess it was rolling on giant 19-inch wheels with heavy run-flat tires.
With 335 horsepower from its single electric motor, the i4 eDrive40 (to give it its full name) is the "slow" version of the i4, though that power output puts it in line with the most powerful 3- series models of just a few years ago. Thanks to the instantaneous torque that's characteristic to all electrically-driven cars, it surges off the line like a gas car with a much higher power rating, and has more than enough go at any road speed to feel fast. Why anyone would need the even more powerful 536-hp i4 M50 is anyone's guess – though that model, thanks to its two electric motors, gives you all-wheel drive.
At least in non-winter conditions, you won't miss the absence of the extra set of driven wheels in the i4 40, and will also enjoy the benefits of lighter steering and a delightful rear-drive handling balance that reminds you of the best BMWs of old. Sure, you feel the weight of the i4 in high-speed bends, but it remains stable and composed, never unfriendly. Plus, the single-motor version of the i4 ekes out substantially more electric range, up to 484 km instead of 435 km for the dual-motor M50.
One of the most interesting things about the i4's driving experience is what BMW calls "IconicSounds," a silly term for what is essentially a little bit of fake noise pumped in through the speakers to add some emotion. On paper, this feature, with sounds composed by Oscar-winning composer Hans Zimmer, seems ridiculous, but you know what? It's great. The sounds are never intrusive, and the combination of futuristic whooshes with a bit of cinema-sound magic really makes the i4 feel special – especially when you tap the button to switch it into sport mode.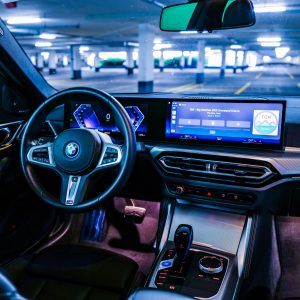 BMW's user interface deserves special mention here, as the i4 – and all of its BMW brethren – still features a good number of physical controls in addition to what seems like acres of LED screens. The instrument cluster and infotainment/climate control are combined into one giant curved display, which can be operated by touch if you want; but there's still the circular iDrive knob on the console, which is far easier to use when on the move (also, no fingerprints).
There are also, praise be, actual buttons on the console, for drive mode selection and other essential features, buttons on the steering wheel for cruise and audio controls; and even a volume knob. BMW was one of the first brands, way back in the early 2000s, to explore the integration of sophisticated IT technology into dashboards, and over 20 years of experience shows – this is simply the best, and easiest-to-use, system out there. This despite the ever-proliferating feature content. Active safety features include lane departure warning, pre-collision braking, and a battery of parking assistants with multiple cameras that even let you see the car from a floating perspective as you reverse into a tight spot. Naturally, Android Auto and Apple CarPlay are standard, as is a wireless charging pad for your phone in front of the big cupholders.
As for the rest of the interior, it shares much of its architecture with the 4 Series Gran Coupe, which in turn shares a lot with the current-generation 3 Series sedan and 4 Series Coupe. That means excellent space up front, fantastic seats, fine materials, and awesome build quality that are a constant reminder you bought a German luxury car; the i4 feels hefty and solid and reassuring from the moment you slam the door. The rear seat has fine legroom, but headroom is compromised by the sloping roof, and access isn't great through a tight door opening; on the other hand, the luggage area is huge, and super easy to use thanks to a giant hatchback.
Starting at $54,990 before options and taxes, the i4 is a surprisingly strong value proposition. Even in completely base trim, it is very well-equipped, with everything you'd want from a luxury car, and I actually think it looks better with the smaller aerodynamic wheels (which also give you the best range) and without the faux-sporty M aerodynamics package (which gives you no extra range or performance). The M50 version, starting at $72,990, also seems like a great value when you consider that it's more powerful than the $86,800 M3 Competition sedan – with more technology too boot.
In order to get the best experience, you'll need to budget a couple thousand – for the average home – to install a home charger unit, but factor in how much you'll save on fuel, with the average "fill up" costing a few dollars instead of over a hundred – and this electric BMW starts to seem like an intelligent financial decision as well as an awesome car.