Review: Mini Cooper S Electric
Blog
Dec 28th, 2021
Of all the gasoline cars on the market that seemed natural to go electric, the Mini Cooper has to be at the top of the list. Small, zippy, and so at home in urban environments, a typical Mini has a short "radius" from home base, its life composed of short cut-and-thrust trips for which electric driving is perfect. Yet, other than an experimental test fleet the brand ran in California a decade ago, it took Mini until 2021 to introduce an all-electric version of its iconic hatch, with a 32-kW battery.
For 2021, the Mini Cooper S Electric (for that is its full name) has had its Transport Canada-rated range upgraded to 183 km, retaining its 181-hp, 199-lb-ft electric motor, which drives the front wheels through a single-speed transmission. Tucked away where the gas Mini's fuel tank would usually be, the battery doesn't compromise luggage space, which means that other than a few acid-green badges, the icon on the charge port, and a slight increase in ride height, there's very little to visually distinguish the electric Mini from any other on the road.
The same is true inside, where the giant circular screen in the middle of the dash still dominates, and where the seats are still sporty to hold you in place during cornering maneuvers. Indications that you're in something electric are limited to a slightly different-looking shifter, the presence of an electric (instead of conventional) handbrake lever, special trim on the dash, and a new digital instrument panel attached to the steering wheel showing charging and battery information, in place of the traditional circular speedometer.
Indeed, the electric Mini is actually the best-equipped Mini. Starting at under $40,000, you get full equipment including heated front seats, a multifunction steering wheel, dual-zone automatic climate control, LED exterior lighting, and an infotainment system with wireless Apple CarPlay, navigation with real-time traffic information, and leatherette seats. Two higher trim levels (Premier and Premier+) add even more luxury equipment, but no real functionality: all models have the same range and the same 50-kW fast-charging ability.
While 50-kW fast charging doesn't really compare well to some of the more recent premium offerings on the market, in practice, it's more than fast enough to top up the electric Mini's little battery very quickly. Mini claims a 0-80% charge takes just 35 minutes, and most of the time, you won't run the battery down to empty, so a DC fast charge is even faster. Even on a 7-kW home charger, you'll need just four hours or so to fill the "tank," making this one of the more convenient cars to own if you have regular access to a charger.
If you don't have access to a charger at home, you might find the Cooper S Electric's 180-km range can cramp your style a bit. While I live in a downtown core, for instance, I make frequent trips to the suburbs for work, and without a charger at home, I found that I was looking for public fast charging pretty much every day to assuage my range anxiety. And as with gasoline cars, cold weather can have a deleterious effect on your range. Most owners won't have these issues and will charge at home on a level two charger; at that point, the Mini's range is more than enough for daily use.
Range aside, by far the best part of driving the electric Mini is actually driving it. The Mini Cooper has always been one of the most fun-to-drive vehicles on the road, its tiny size, great visibility, and torquey engines making it feel like a go-kart in city traffic; the move to electric power only enhances that feel. Like all electric vehicles, torque is instantaneous from a standstill, and there's a seamless rush of acceleration without any pauses for gear changes; this car feels a lot faster than its 6.9-second 0-100 km/h rating suggests.
Despite weighing about 130 kg more than a gasoline Cooper S – and sitting 15 mm higher – the electric version has lost none of the Mini's signature handling ability. The steering is perfectly-weighted and incredibly direct: you think you want to point the car somewhere, and it's there, instantaneously. It zips around corners faster and with more stability than you think a car this small would be capable of, and is as much fun to drive on on- and off-ramps and winding roads as it is in the city.
The brakes are worth making note of as well. In their default mode, they offer powerful regeneration; While I found them to be just a little too aggressive for my driving style, credit must be given to their calibration, which makes the Mini easy to one-pedal in traffic. On the open road, a toggle switch lets you choose lighter regeneration, more suited to highway driving.
From a practicality standpoint, the electric Mini is perfect for its intended purpose, zipping around town running errands. The front cabin is remarkably spacious, with easy-to-use controls for the 8.8-inch infotainment system and a wide range of adjustability for the comfortable front seats. However, thanks to a compact wheelbase, the back seat is very tight indeed, and the trunk area is tiny; fold the seats down, though, and you have a large, easy to use luggage area. (Want an electrified Mini but want more space? The four-door Countryman crossover is available as a plug-in hybrid).
If that, and the short range, makes the Cooper S Electric sound compromised, I don't think that's true; I think of this car as more focused than compromised. Use it for what it's intended for – urban living, shorter trips, charging at home – and it's brilliant, not to mention one of the least-expensive electric vehicles currently on the market once you factor in the fuel savings, the $5,000 federal incentive, and any local incentives available to you.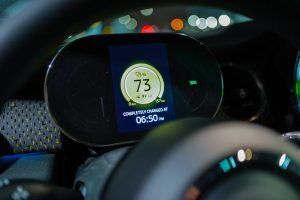 Certainly if you want or need something bigger, or with greater range, there are better options out there – but very few EVs deliver the fun factor of this little Mini.