Pfaff Motorsports shows top pace despite woes at Motul Petit Le Mans
Blog
Oct 20th, 2020
ATLANTA, October 19, 2020 // Returning to IMSA WeatherTech action for the first time since the 24 Hours at Daytona in January due to travel restrictions, Pfaff Motorsports demonstrated the team's innate performance at 10-hour Motul Petit Le Mans this past weekend at Road Atlanta.
Despite limited testing leading up to the weekend, the Toronto-based squad made efficient use of its track time upon arrival, treating each session as a test at the same circuit where its competition had raced a six-hour event just five weeks prior.
With its main endurance driver lineup of Porsche development driver Lars Kern (GER), Intercontinental GT champion Dennis Olsen (NOR), and 2019 IMSA GTD Sprint champion Zach Robichon (CAN), the team qualified the Motul "Plaid Porsche" 911 GT3 R in eighth position, and put its preparations to good use once the green flag waved for Saturday's main event.
Robichon quickly catapulted the no. 9 Motul GT3 R up to third position by lap 15 and handed the wheel to Kern on lap 20, who held a steady position into the second round of pit stops and fought within the top five before swapping seats with Olsen on lap 105.
The Norwegian continued Pfaff's forward push, but a tire issue just 15 laps after Olsen's first stop forced the team to come in early on lap 146, dropping them to as low as 11th before Olsen began leapfrogging the competition again to regain five positions.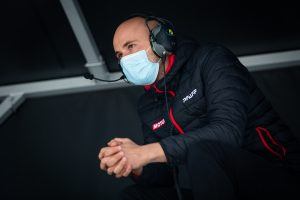 Robichon carried that momentum, driving steadily back into third on lap 241, but once again tire issues just two laps after his pit stop on lap 264 pushed the team back down to 11th with just under three-and-a-half hours remaining.
Mitigating the damage, Olsen jumped back in for the final stint and set the team's fastest lap of the race, and second-fastest in-class on lap 395 of 413, to bring the Motul Pfaff Porsche back up to fifth before finishing the race under six laps of caution.
"It was a hard-fought weekend – a tough one as well," Olsen said. "We were really quick, especially during the race – but with three tire issues and finishing under the yellow when we were still pushing for position, it made it very difficult to overtake and hold positions. I feel we had the pace to win the race, but given our challenges, it made it very hard to get past anybody, The team didn't get what they deserved because everyone did a really great job to give us a fast car this weekend."
Team manager Steve Bortolotti echoed those comments, praising his crew for their efforts despite entering the weekend with just three hours of track testing since the team last raced in January.
"I think we performed as well as could be expected after nine months away," he said. "We'd be lying to ourselves if there wasn't some rust that needed to be shaken off, but the entire team did a great job of mitigating our mistakes to keep ourselves on the lead lap for all 10 hours, and a lot of that has to do with Andrew Marangoni (engineer) and Tyler Neff (strategist) making the right calls and our entire team executing to keep us in the fight."
For Robichon, a major takeaway from the week was the team's ability to show such strong performance despite missing almost the entire season when compared to its competitors.
"I think I speak for all the drivers and the team when I say we were just very, very excited to be here and have the opportunity to compete. I think Andrew [Marangoni] said it best that if we were fighting for a championship, this would have been a fantastic championship race, because everything that could have gone wrong went wrong, and we still managed to finish fifth – and that's a testament to the entire team. We had a lot of issues that were out of our control, but the guys put their heads down, fixed it, and in the end gave us a chance to fight."
For Kern, that performance is just added motivation as the team looks to return to the full IMSA GTD season championship in 2021.
"The team gave us a great car, and all of the drivers didn't put a foot wrong the entire race," he said. "This is exactly what you aim for. If felt like we never stopped racing once we were back in the car, so I'm proud of what we were able to achieve in such a short time back. There were very few negatives when you look at the final outcome of the race – we were just unlucky. It's the many positives that will only make us stronger as we look forward to next season."
Stay tuned for further announcements from Pfaff Motorsports regarding the 2020 IMSA racing season. For more news and behind-the-scenes content, follow @PfaffMotorsports, @Pfaff_Porsche, @Porsche_Markham, and @PfaffAuto on Instagram, and Pfaff Porsche and Porsche Centre Markham on Facebook.
Image credit: Pfaff Motorsports/Lenssen Photo