Test drive: Audi Q5 TFSI e plug-in hybrid
Audi
Sep 15th, 2020
The four-cylinder, plug-in hybrid Audi Q5e costs as much as the brand's six-cylinder, sport-tuned SQ5, one of the most appealing midsize SUVs on the planet, prompting the obvious question of, who would buy the Q5e – and what's it best suited for when the Q5 it's based on, and even the SQ5, are already remarkably economical for the performance they provide?
On paper, the Q5e has an interesting combination of specs: the well-known four-cylinder power from the Q5 coupled with an electric motor that adds official full-electric driving range of 32 km. For the privilege of that electric range, you cart around a fair bit of extra weight and pay that SQ5 price penalty. But, like every plug-in hybrid, there's a lot more to what makes the Q5e appealing than the on-paper specs.
For one thing, it's fast. Faster, in fact, than the turbo V6 SQ5 when you put your foot into it. Combined output from the turbo four and the electric motor totals over 350 hp, more than the SQ5, and the electric motor's torque means that it delivers more punch off the line more quickly, filling in the power gap as the turbo spools up. Unlike the SQ5, which delivers its performance with drama, the Q5e is almost completely silent, lofting itself up to speed seamlessly and effortlessly. It's fast, but with a completely different attitude.
You also get more choice in how you want the Q5e to drive. With a charged-up battery, you have the choice of full-electric mode, using no fuel at all even up to highway speeds; a normal hybrid mode mixes gas and electric to perfectly balance economy and performance; and a EV hold mode conserves battery power for full-electric driving in the city. Plug the Q5e in at home every night, and you'll likely depart on with enough juice to do your commute without using a drop of fuel, and you can often exceed the 32-km full-electric rating; I managed to eke out over 40 km on a charge more than once.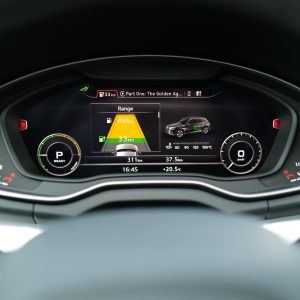 Like all plug-in hybrids, the Q5e comes with additional benefits beyond fuel- and emissions-free driving. You're eligible for green plates, which allow you access to HOV lanes on 400-series highways, further improving its commuter credentials by freeing you from rush-hour traffic. Fuel consumption in hybrid mode is less than 9 L/100 km, which is amazing for such a powerful and capable SUV, and the Q5e a blessedly silent runner no matter what the driving condition. Taking full advantage of the plug-in hybrid technology means installing an EV charger at home, but Pfaff makes it easy thanks to a partnership with one of the country's largest and most experienced electrical contractors.
Other than a few key visual differences – a 20-inch wheel design exclusive to this version, standard S Line sport styling inside and out – the Q5e is very much a Q5. Audi's signature SUV and a perennial best-seller, it's beautifully made inside and out, has more than enough space for a growing family, and brilliant packaging means it's easy to maneuver in the city. The interior, in particular, remains a highlight, with excellent seats, gorgeous materials, and an infotainment system controlled by an intuitive turn-and-click knob and touchpad.
The Q5e isn't for everyone. Its economy advantages and EV range make it more suited for commuting and the city than frequent long trips or sportier driving, for which drivers will find the similarly-priced SQ5 more rewarding. But for those whose lifestyle fits with its technology, the Q5e's silence, refinement, eco-friendliness, and indeed its rarity, will be incredibly appealing.