Review: 2020 Audi A4
Audi
Aug 10th, 2020
The general modus operandi for the mid-life (four-year) refresh of a mainstream model goes something like this: add lights, new wheels, maybe new bumpers and colours, and a smattering of new features to keep interest in a successful model strong in the face of the competition. Bigger changes – and bigger dollars – are spared for brand-new generations, which come every seven or eight years. Then you have the 2020 Audi A4, a car that's still fundamentally the same car as the A4 introduced for 2016 – but a car whose look, feel, and technology suggest that Audi went to town, and to the bank.
Mid-cycle facelifts don't normally involve new sheet metal, but the sides of the A4 have been subtly but significantly updated, the creases in the front and rear fenders blending into new doors to suggest the aggressive blistered arches of the all-conquering Quattro all-wheel-drive race/rally car. New front light units integrate similar LED eyelashes to those you'll see on high-end models like the Q7 and Q8, and a new front bumper, with its much wider single-frame grille opening and three air vents, gives the new A4 a much sportier look, particularly when combined with the S line package and its bi-colour Audi Sport wheels. New rear lights, a new rear bumper, and wide rectangular exhaust outlets complete the new suit.
Inside, there are more significant changes. Audi's virtual cockpit instrument cluster, similar to higher-end models of the last few years, is familiar territory, but the central infotainment screen is now significantly larger, and exclusively touch-powered, with no more MMI knob in the centre console. It runs Audi's latest software, with large, easy-to-use tiles and an intuitive interface that's streets ahead of its predecessor, as well as significantly improved responsiveness, greater clarity, and more features, including wireless Apple CarPlay and Android Auto. Space in the console is freed up for additional extra storage, and is now class-leading, with three separate compartments, including one that has a wireless phone-charger pad; there are also plenty of power and USB outlets to keep your – and passengers' – devices charged.
The A4's interior space remains unchanged, but it didn't need much changing, as it was already one of the most spacious and comfortable vehicles in the class. What you'll notice instead are improved seats that seem to have been imported from a class above, nicer materials, more choices for the LED mood lighting, and that unmistakable air of Audi quality. The contrasting stitching on the seats and wheel is millimetre-perfect, the knurling on the volume and climate knobs is as intricate as you'll find on fine jewellery, and the plastics feel like they'll last forever. While I wasn't a fan of the ultra-glossy (and fingerprint-magnet) piano black trim on the car I drove, many other finishes are available. The overall feel of the A4's interior is now sort of a junior A6 – lots of space, gorgeous seating, great tech, and modern luxury.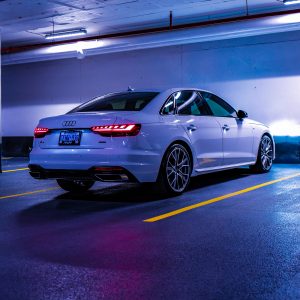 That's how it drives, too. Even with the S line's big wheels and performance tires, the A4 rides and handles with a grace that's clearly from the class above. The steering is light and precise, the suspension soaks up bumps big and small in an unruffled fashion, and the A4's excellent aerodynamics mean that wind noise is almost nonexistent, too. Power from the 248-hp turbogharged four-cylinder is more than sufficient for any situation, and the dual-clutch gearbox shuffles seamlessly between its seven gears, your only indication that there are gears at all being a subtle change in the engine's tone.
With standard quattro all-wheel drive delivering all-conditions, all-seasons sure-footedness, the new A4 is incredibly confident and reassuring to drive. The 2020 is no longer, unlike the first- and second-generation A4s, a zippy, slightly stiff sports sedan, even though its limits are far higher; its standout qualities are its refinement and sense of calm. Should you want a bit more excitement, the turbo V6 in the similarly-restyled S4 awaits.
In a market obsessed with SUVs, sedans sometimes don't get the attention they deserve, but they still have a lot of advantages. Sleeker silhouettes and lighter weight make for better fuel economy, they're easier to wheel around town, and containing cargo in its own enclosure – the trunk – benefits refinement as well. And while it can sometimes seem like manufacturers are lavishing all of their attention on their four-wheelers, the depth and breadth of the updates to the A4 bring it right back to the top of the class.