Retro review: Pfaff Reserve's 2014 Audi R8 V10
Audi
Mar 17th, 2020
I can remember so clearly the way the Audi R8 rocked the automotive world when it was first introduced. Driving around Toronto in one of the first ones to land in the country, I felt like an instant celebrity – camera phones had just started to become mainstream, and I discovered in a week just how many of them the mid-engined Audi would attract.
They were there, in the side-view mirror, hanging out of cars sitting in the blind spot on the Gardiner, trying to get some footage. Staring right at you through the back window of cars in front of you in traffic, panning back and forth to take in the full magnificence of the R8's LED driving-light arrangement and its big, low shield-shaped grille. Poking out from crowds at bus shelters, snapping a pic as you went by. They were there, right in your face as you came back to the car in a parking lot.
Remarkably, more than 10 years on, the R8's star power is hardly diminished. There is just something about it – I've driven more expensive cars, faster cars, cars that make more noise and cars that go around corners faster, but a first-generation R8 is an enduring head-turner, one whose exoticism hasn't been affected by new market entrants, or indeed, the much edgier-looking second-generation version. Only a couple of things give away its age: the slightly antiquated-feeling MMI system (which can still Bluetooth stream); the fact that you start it with a key rather than a button; and a wonderfully refreshing lack of drive modes – the R8 has one, and it's good.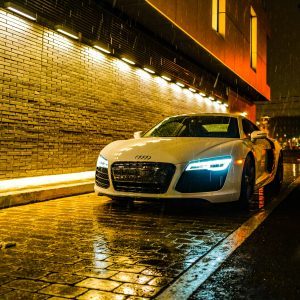 While never an inexpensive car, there's always been something about the R8's proportions and its look that suggests it's a lot pricier than it is, which remains as true today as when it was new. It is long, low, wide, and eerily reminiscent of the Lamborghini Gallardo with which it shares some DNA. There's the detailing: delicate alloys which wrapped around huge brake calipers bearing R8 logos, the LED lights, the contrasting panel on the side. Even the specs – 525 hp from a dry-sump, direct-injection V10; four-wheel drive; two perfectly-formed seats; magnetic ride-control suspension; suggest something way more exotic than its price.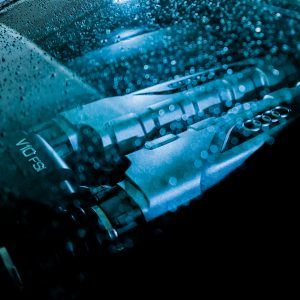 The R8 drives like an exotic, too, thanks to its mid-engined layout and that yowling V10. While the original V8 model competed with high-end Porsche 911s thanks to its power output and price, the V10 takes it firmly into exotic territory, from the way it makes its noise, to the way it delivers its power and the way the numbers pile up on the speedometer. On the road, it feels low and wide like an exotic should, but is incredibly light on its feet, and the electric response of the V10 is so special now that most of the new exotics you can buy are boosted by sound-muffling turbochargers. It's like a Carrera GT, slightly relaxed so you can drive it every day; it's a Lamborghini excised of high-strung histrionics; it's wonderful.
What makes the R8 an interesting and compelling ownership proposition is how it combines this feeling of being a true exotic with the solid, dependable, and predictable nature of any old Audi – easy to drive in any kind of weather, stable no matter how challenging the road. The flat-bottomed wheel dances under your fingertips in corners, but calms down when you're just cruising; the magnetic shocks give it an unbelievably comfortable ride, even in sport mode; and when you're simply driving around, it's as comfortable and composed as any Audi sedan, with a wide cabin, easy-to-decipher controls, and terrific ergonomics.
Even though a lot of the parts in the R8's interior actually come from other Audis – the steering wheel, door handles, climate control knobs and other bits come from the TT, for instance – it's hard to deny the sense of occasion you feel dropping into its low, low cabin. The view out the windshield is spectacular. The cockpit sweeps around the driver in one sweeping arc, the gauges float in chromed triangular pods and the navigation screen swivels away at the touch of a button.
Choose the manual transmission and you get an exposed shift gate like a vintage Ferrari's; even moving around a parking lot, you get a clack-clack sensation to remind you that you're driving something special.
It's hard to overstate how the manual absolutely transforms the sensation of driving an R8. Early automated-transmission cars had a single-clutch transmission that rewarded real driving skill, but was challenging in the daily grind; post-facelift cars came with a double-clutcher that smoothed things out significantly, but lacked the sense of occasion of slinging that metal shifter through those metal gates. Like the engine bay that lights up when you unlock the car, or the way the needles do a full sweep of the gauges when you start the engine, there's something theatrical about the R8, which the manual completely enhances.
Indeed, despite the level of satisfaction that the manual transmission offers – in its time, it was one of the finest shift mechanisms available – most R8 production was of the R-Tronic or S-Tronic variety; perhaps that's why values for six-speed models are so much stronger than for the self-shifters. With modern looks that continue to turn heads, amazing sounds, fantastic curb appeal, and build quality solid enough to drive it every day, a manual V10 R8 is a truly special, and truly rare car, and we're fortunate to have both a coupe and a spider to choose from. It's truly worth experiencing them for yourself.