Subaru's Legacy is the brand's best-kept secret
Blog
Nov 6th, 2019
The Subaru Legacy doesn't get a lot of attention, which is a bit of a shame. Subaru as a brand has focused its marketing efforts primarily around two ends of the automotive spectrum: rugged crossovers like the Crosstrek, Frester, and Outback on the one side, and passion-led enthusiast offerings like the WRX and BRZ on the other. A midsize sedan occupying the middle ground, with stealthy styling, Legacy doesn't do much shouting – but it's always been a solid, capable, and surprisingly entertaining product. The 2020 version, recently arrived at Pfaff Subaru, is all-new; not only is it better than ever, but it's definitely jumped a class in luxury and performance, making it not just Subaru's best-kept secret, but perhaps the best-kept secret in the luxury market too.
There is little from the outside to indicate how luxurious the new Legacy is, or how well it performs. The styling is clean and inoffensive, with some nicely-executed details; it's only when you see it in profile that you realize the Legacy is actually quite different from other sedans, distinctly taller in its proportions, with a relatively high hood and trunk line as well as lots of glass. The proportions are an indication of two things: first, that Legacy shares its bones with the wildly-successful Outback, also redesigned for 2020; and second, that this car prioritizes intelligent packaging and ease of ingress/egress.
Crack open any of the doors and you discover a far larger cabin than the Legacy's relatively compact exterior dimensions would lead you to expect. Thanks to the tall roof, seating positions are relatively high, upright and comfortable, creating more legroom as a consequence; getting in and out is easier than in other sedans, requiring just a hip-swivel and no crouching. Lots of glass increases the sense of space (the sunroof, standard on higher-end models, is big, too), and sightlines are excellent. The trunk is positively huge.
More impressive than the space in the cabin, though, is the level of finishing. Legacies have always had solid, ergonomically-sound, and long-lasting interiors, but they've never really been luxurious. But now, particularly in its higher trim levels, the 2020 model truly feels like a car from the class above. At under $40,000 fully tricked-out, the Legacy Premier GT's interior is draped in gorgeous, double-stitched nappa leather (a beautiful shade of saddle brown in the car we drove), lit at night with subtle LEDs, trimmed in piano-black and aluminum, and constructed as solidly as any German luxury car. Power assists are present for everything, the awesome seats are both heated and cooled, and there's some real artistry in the details.
Technology has taken a huge step forward as well. You'll notice the console's giant touch screen first. Vertically-oriented, it is bright, responsive, high-res, and most importantly, thanks to its size, very easy to use at a glance. The readouts for the radio and climate are large, growing to jumbo-size while you manipulate them; navigation, trip computer, and other functions are similarly easy to use; Android Auto and Apple CarPlay integration is standard. It takes a bit more time to appreciate the more subtle touches: there are still separate controls outside the touchscreen for the most commonly-used functions, making for distraction-free driving; the instrument cluster is supremely easy to read; and unlike most of the Germans, items like the shift lever, column stalks, and other basic functions haven't been redesigned for the sake of making them "different."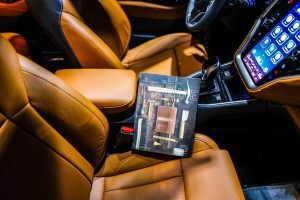 It's worth noting, too, some of the less-obvious tech that is there to help keep you safe in all driving conditions. All Legacies are equipped with Subaru's EyeSight with lane centering assist and assist monitor; upgrade to higher trims and you get even more assistance, up to and including automatic braking in reverse if the car senses something or someone is about to cross your path. The DriverFocus distraction mitigation system senses when your eyes are straying from the road – it also recognizes your face as you get into the car and sets up your seats, radio presets, and other preferences, accordingly. Pretty slick.
Set all the tech and luxury aside, though, because the best thing about the Legacy is actually the way that it drives. Higher-level models are now equipped with a buttery-smooth, super-refined 2.4-litre boxer, now fitted with a turbo to produce 260 hp and 277 lb-ft of torque. The CVT transmission makes for remarkably seamless and silent progress while you're motoring around town, but activate its manual mode and you get eight manual steps, preserving the sense of driving fun that continues to unite all Subarus. The company's signature symmetrical all-wheel drive system means that you can access all of the car's performance in all weather conditions, and as you'd expect, traction and stability are just superb.
While the Legacy's suspension is, like the interior, set up for luxury – it rides smoothly over any kind of pavement, enhancing the already impressive quiet of the cabin – there's still plenty of fun to be had in corners. Surprisingly, the tall body doesn't lean much, the all-wheel drive lends a natural balance, and the Legacy still has that sense of toughness you get in all of Subaru's cars from the STI to the Forester to the BRZ. The Legacy, like them, feels like it'll take any kind of abuse you throw at it in its stride, and come back for more.
Ultimately, I think it's that feeling – the combination of eagerness and ruggedness – which permeates Subaru's entire lineup that keeps the brand's owners so loyal and devoted. There's very little that's flashy or exceptionally exciting about any of the brand's cars, and on paper, other brands offer more features or performance for similar money, with more style. But Subarus feel special to drive, they feel like they'll last forever, and they feel like intelligent choices for intelligent people. With the 2020 Legacy, you can now add luxury to the list of attributes that will keep Subaru drivers coming back for more.