Review: 2019 Mercedes-AMG GT C
Blog
Sep 6th, 2019
If you're in the market for a high-end sports car in 2019, you're spoiled for choice. There's a broader spectrum of brands than ever playing in the space, and they're offering every conceivable configuration – from rear- to mid- to front-engine, with cylinder count ranging from three-cylinder hybrids through to flat-sixes, turbo eights, and even V10s. There's a proliferation of variants to choose from as well, and more customization options than ever.
Ultimately, which one you choose kind of comes down to where you sit on the old-school/new-school spectrum. Cars like the BMW i8 sit at the extreme end of reaching towards the future, with the mid-engine McLaren Sports Series and Audi R8 on the forward-looking side of centre, the Porsche 911 deftly straddling the middle, and cars like the front-engine, rear-drive Mercedes-AMG GT looking to the past for spiritual and design inspiration, even as they employ the latest technology.
Interestingly, the AMG GT, featured here in sweet-spot 550-hp GT C form, is one of the newer entrants into the market, despite its design most clearly referencing a model from the past, Mercedes' iconic 300SL gullwing sports-racer. It is, in fact, packed with tech, including a speedy-shifting rear-mounted double-clutch gearbox, electronically-controlled limited-slip differential, and a snarling V8 with the twin turbos nestled in the engine's V so they warm up faster, and internals coated in the evocatively-named "nanoslide." The rotary drive mode control serves up progressively more aggressive engine, gearbox, suspension, and stability-control calibrations, or allows you to set up an individual mode to your preference (sport on the drivetrain, quiet on the exhaust so you can hear the V8's engine sounds better, comfort suspension, and lots of leeway from the ESP).
The way the GT drives is appealingly old-school. You sit way far back in the car, almost over the rear axle, so it's a little intimidating at first, with that long hood stretching out in front of you. The engine serves up huge power and even more torque, and you have to show the gas pedal some respect; it can, at least initially, feel twitchy in corners, or even sometimes in a straight line when you're really on it. Spend more time learning it, though, and the car starts to feel smaller and more confident; that initial twitch in corners actually just settles it in, from which you can power through on a tidal wave of power and noise.
Some modern sophistication is definitely present, though. Massive 19- and 20-inch tires provide modern levels of cornering grip, but the adaptive dampers and Michelin Pilot Super Sport tires actually deliver ride quality that's surprisingly good, and the engine and transmission can, if you want, also play the role of refined cruiser. Fuel economy isn't the greatest, of course, but there is an automatic start-stop function for city traffic, and in comfort mode, the GT C can disconnect engine from gearbox to allow the car to freewheel at high speeds, instantly reconnecting them when you need power.
Inside, the GT C feels truly special, with leather, carbon, and metallic finishes everywhere. It's what you might call an intimate cockpit: low roof, small windows, wide transmission tunnel, and not a lot of storage space. The ergonomics are amusingly scattershot, a surprise for typically-logical Mercedes: seat heater switches on the roof (!); a gearshift lever that sits so far back you have to contort yourself to reach it; and an infotainment system that could really use an update, especially in light of the spectacular MBUX system recently introduced in the A-class and GLE. The seats look awesome and are awesomely supportive, though, and the build quality is amazing.
I stepped into the GT C the same day I'd just given back a BMW i8, and the difference between the two is instructive. They both cost about the same (in the case of the GT, around $170,000 or so, before options), but that's about all they have in common. The BMW is aggressively futuristic, with its hybrid electric/three-cylinder turbo drivetrain, all-digital cockpit, and Tron-esque styling – a stark contrast to the Benz's old-school appeal, founded on its long-hood, short-deck proportions and its rumbling V8.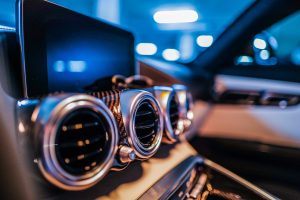 No matter what approach you prefer, like I said, it's a good time to be buying a high-end sports car.
The Mercedes-AMG GT is available at Mercedes-Benz Kitchener-Waterloo.