Living with Audi's all-electric e-tron
Audi
Jul 27th, 2019
In my mind, there's no question that the day will come where electricity will power our daily transportation needs, even if we still have gasoline-powered cars for recreation. Electric cars' advantages – zero emissions, simpler mechanics with far fewer moving parts, smoothness, quiet – make them, when charged up, amazing, efficient commuter vehicles. The real question, during this a transitionary time when electric infrastructure is starting to come online, is when. When's the right time to switch from gas to electric for your daily transportation needs, and what's the right product to do it with?
Browse our inventory at H.J. Pfaff Audi Newmarket and Pfaff Audi Vaughan.
Living in downtown Toronto, there's a lot about pure-electric driving that really appeals to me. I deal with a lot of traffic, so the idea of emissions-free driving, and more importantly, guilt-free idling, is very appealing. When you're sitting in a downtown jam in a gasoline car, engine idling away, burning gas and polluting the air, you feel like a bit of a jerk; do the same in something like this sleek, white Audi e-tron, and you feel smart and modern, despite still luxuriating in a cabin stuffed with leather, heated and cooled seats, and all of the technology toys you could ask for.
What's interesting about my particular circumstance is that, despite an abundance of charging stations in Toronto's downtown core, my condo in the west end of downtown, is far enough from any of those stations to make charging inconvenient – a 20-minute walk at minimum, fine on a beautiful sunny day, less fun when it's chucking down rain. Over the week or so I spent with the e-tron, I came to truly understand range anxiety, and having to plan trips ahead based on how much charge was left in the car.
Browse our inventory at H.J. Pfaff Audi Newmarket and Pfaff Audi Vaughan.
The e-tron's real world range of about 320 km is, given the car's size, weight, and features, is actually impressive, and there wasn't a single time I actually ran out of juice, with charging available at work. But, I certainly found myself being more strategic about where I went when, making my days less spontaneous than they would otherwise have been.
Truth is, however, that the vast majority of e-tron buyers won't live in a little downtown condo like I do – with a starting price of $90,000, they'll likely live in a house, or a newer, fancier building than me – and will therefore have charging available at home. A 220 volt charger comes as part of the asking price, and with one installed in your garage, the range anxiety disappears – and you're left with a brilliantly comfortable, refined, and versatile commuter that really feels like it's from the future.
You are also left with something that feels like a true Audi. Unlike some early, and even more expensive, entrants to the luxury SUV market, this long-wheelbase crossover is beautifully made from exquisite materials, and every one of its technically-advanced features work beautifully together. Its seats (complete with massage function) are long-distance comfortable, its Bang & Olufsen stereo has brilliantly clear sound, and there's just a comforting precision and weight to everything you touch and feel.
Browse our inventory at H.J. Pfaff Audi Newmarket and Pfaff Audi Vaughan.
The e-tron drives like an Audi too – just better. Drivers coming from another Audi will recognize the direct, precise steering, the well-judged ride quality which gives just the right amount of road feel while keeping passengers comfortable, and the strong performance. What's new to the mix is refinement that's in a different league, thanks to the dual-motor electric drive, the lack of a gearbox, and standard-fit air suspension. While there is a bit of manufactured, futuristic "engine noise" (something mandated by legislation), the e-tron is unbelievably silent and smooth, its swift progress uninterrupted by gear changes, engine revving, and other remnants of the gasoline driving experience.
Enthusiasts of such anachronistic pleasures as gear changes, high revs, and screeching tires could therefore level an accusation of a lack of emotion at the e-tron, but it, and every other electric car, comes with its own, different pleasures. Beyond the silence and smoothness, there's the instant responsiveness of the e-motors, and there's also pure speed: for a long-wheelbase crossover, the 6.6-second to 100 km/h dash is impressive, but the e-tron feels way faster, and it gets up and goes at any speed when you put your foot down. For something that weighs upwards of 5,600 pounds and rolls on low-rolling-resistance Continental eco tires, the handling is also impressive.
What's not to like? Very little, actually. If you're fastidious about your interiors like I am, the all-touchscreen interface will send your OCD into overdrive (thankfully, the e-tron, like every new Audi, comes standard with the world's best screen cleaning cloth). The "dynamic" mode on the drive select function feels artificial a bit silly, manufacturing more noise and harshness without really improving the performance. The amount of regeneration, controlled by paddles behind the steering wheel, resets itself every time you lift off the throttle. And the driver assistance systems, particularly the lane-keeping assist, are overly aggressive for drivers who think they know what they're doing.
Indeed, outside the charging thing – over the next few years, public charge points are going to pop up everywhere, and indeed, it already feels like there are 10 times as many as there used to be just five years ago, and many of them will be fast chargers that can fully juice the 95-kw/h battery far faster than overnight – the e-tron may well be my favourite Audi crossover. It's beautiful to look at, its long wheelbase makes for an incredibly spacious and comfortable cabin, and it drives like it's from the future. Over time, the charging station situation will get better and better, and the excuses to not drive electric will get fewer and fewer.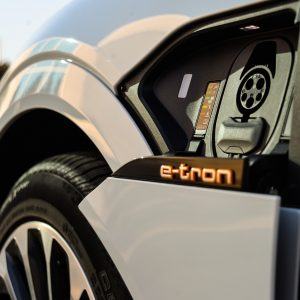 Browse our inventory at H.J. Pfaff Audi Newmarket and Pfaff Audi Vaughan.