Review: Mercedes-AMG GLC 63 S
Blog
Jun 8th, 2019
Is there any vehicle segment more contradictory than the ultra-performance compact SUV? The format seems to combine the worst of all worlds: an SUV without the space or off-road ability; a performance car without the light weight. On paper, the $90,000 ($110,000 or so once you've loaded up the tastiest options) 507-hp Mercedes-Benz GLC63 S sounds like a pretty ridiculous proposition – and it is. But, it's also an impressively accomplished driving machine – one whose faults are simultaneously its charms, and one whose practicality and versatility remain untouched for the many times you'll simply be using it as your daily wheels.
There's really something about the way it looks. Jamming AMG's high-spec twin-turbo V8 into the GLC's nose has required swelling the front fenders to cartoon proportions, and a massive intercooler and radiator setup has required a bumper that looks more race car than SUV. 21-inch rear tires as wide as those fitted to the AMG GT, a beefed-up suspension to cope with the additional speed, and on this car, a sinister black paint job with aluminum accents, give the GLC63 S a tough, bulldog stance. It looks completely different from more pedestrian GLCs, which are smooth and elegant, but a little anonymous; even sitting still, it looks ready to maul whatever gets in its way.
The 63 S's audible bark is as big as its visual bark. Fire it up, and even in its softest, quietest setting, the V8 rumbles like a NASCAR stocker, gently rocking the AMG on its springs even at its intentionally lumpy idle. With two, fast-spinning turbos tucked into the engine's vee, the hand-built engine's throttle response is instantaneous, reminiscent more of a naturally-aspirated engine twice the size. Couple the huge power and 516 lb-ft of torque to a quick-witted and tightly-stacked nine-speed automatic, and you have a truck that feels massively, almost overwhelmingly fast in every situation: the engine makes torque everywhere, and with all those gears and the lightning-quick shifts, you're always in the best gear to make the most of it.
Like most modern performance vehicles, you have many systems that you can adjust, and a multitude of drive modes to play with. In addition to the default comfort mode, there's a "slippery" mode, sport, sport plus, and even a race mode, should you want to take your SUV to the track. You can also dial in and save your individual driving mode, with your preferred settings for stability control intervention, suspension stiffness, throttle response, transmission aggression, exhaust volume, and even your preferred look for the information screen between the dials.
To be honest, on the street, comfort mode is all you'll ever need and want. In comfort, the GLC63 S rides like you'd expect a Mercedes to ride despite the massive low-profile Michelins, and it remains impressively composed in corners with just enough body roll to remind you that you're a bit higher off the ground than a similarly-powered C63 S. With throttle response in its least-aggressive setting, you can better control the engine's prodigious power, and the transmission remains impressively alert without compromising smoothness.
Set it up this way and you can get the GLC63 S into a really nice flow, maintaining serious speed while somewhat flying under the radar. If you want to be more extroverted, by all means dial the systems up, and you can lunge and lurch mightily between screeching-tire take-offs, ABS-triggering hard stops, and toss the Merc through corners with all tires gripping hard as its exhaust pops and thunders and creates all manner of racket. It's tons of fun, but it also feels a little attention-seeking, when a smoother, more precise driving style would yield just as much speed.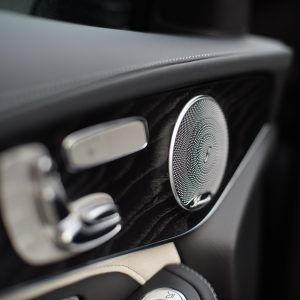 Then again, the multitude of personalities that the GLC63 S serves up is a large part of its appeal, combining the best of Mercedes luxury and elegance with a dose of aggression. That's something clearly evident inside, where aggressively-bolstered sports seats with Alcantara inserts butt up alongside matte-finish bird's-eye maple wood trim, Burmester speaker grilles that look better than most jewellery, and adjustable mood lighting. On a more practical front, there's a surprising amount of space in the rear seat, the cargo area is one of the better in the class, and the overall packaging of this compact SUV is impressive, given its curving styling.
Indeed, all of the things that make a regular GLC an easy car to recommend and like are still present in the 63 S, and (apocalyptic city fuel consumption aside) it is just as easy to live with as a commuter car. What's impressive about it is just how special it feels when you decide you want a little more than that. Of all of the performance compact SUVs currently out there, it has the most power (a Porsche Macan Turbo has a hundred fewer horses, two fewer cylinders, two fewer gears), the most noise, the most aggressive look, and the most personality. The GLC63 S may not make a lot of logical sense, but it's an easy vehicle to love – and it will be interesting to see what BMW's upcoming 503-hp X3 M does to compete when it arrives soon.