The Pfaff last-minute holiday gift guide
Audi
Dec 12th, 2018
Stuck for last-minute stocking stuffer ideas for the car or motorcycle fanatic in your life? Pfaff has you covered. Whether you're looking for a model car for a child (large or small), elegant accessories for work or play, or tools for your next road trip, this gift guide will help you be a holiday hero.
We've just launched a new online store where you can purchase many McLaren and Pagani gift items at shop.pfaffauto.com. Or you can find a full list of sources below.
Under $250
For the children in your life, Pfaff has some great options. Whether it's a my first racing suit ($87) from Pfaff Porsche, a Mazda teddy bear ($25), or a stylish walker ($89) for baby's first road trip, no driver's license is required for any of these great gifts. Or for bigger kids, consider a 1:18 BMW M5 ($113) in Marina Bay Blue, a 1:14 McLaren P1 GTR radio-controlled car ($89), or a MINI penny skateboard ($165).
If you're embarking on a road trip this season, gear up with the Toyota Corolla Mission Pack ($104), which helps you package essentials for journeys with an insulated cooler pocket, water bottle pockets, tech ports for your gadgets, and an RFID-lined pocket for storing sensitive material. The Toyota Scout Rescue flashlight ($30) doubles as a window hammer and includes a concealed seat-belt cutter. Mini's 13-way JCW multi-tool comes in a customized nappa leather case. An Audi Contigo water bottle ($26) will help you stay hydrated, while a Mercedes picnic hamper ($170) contains picnic accessories for two, including cutlery, glasses, plates, bottle opener, and more.
Those more fashionably minded might appreciate a Volkswagen T-shirt ($15, all designs); a Dodge Demon jacket ($60) or Jeep Hoodie ($50),  or a ladies' Toyota Roots-73 hoody ($96). Mercedes-Benz has a versatile handbag by Fritzi aus PreuBen ($216).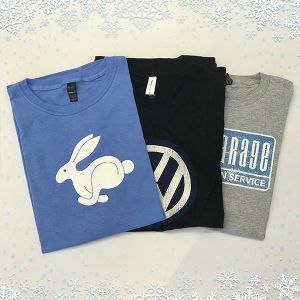 Harley-Davidson fans can indulge at home with a bar and shield wine glass set ($32) or a bar and shield shaker set ($35) – or hit the road with a black tall travel mug ($40) or short travel mug with handle ($38).
Between $200 and $500
Travel in style to work or play with iconic BMW cufflinks with onyx inserts ($329), or your choice of BMW or Harley-Davidson watches ($400 or$275, respectively). Audi's laptop bag ($260) helps keep your work life stylish and organized, or choose Porsche's durable two-in-one messenger bag and rucksack ($360) in black.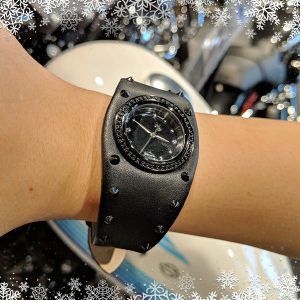 If you work in the urban jungle, the Purefix fixed-gear bike from Volkswagen ($500 and up) offers speed, style and versatility, whether you're starting out, getting back into biking after a few years away, or just want to get a feel for the sport.
$500 and up
For the kid that has everything, the McLaren ride-on EV car ($600) is controllable via remote-control as well as by your child, and has a USB interface for music, as well. With McLaren's iconic dihedral doors, it's the best ride-on car you can buy.
If your music lover is more mature, the Porsche 911 speaker ($745) pumps out 60 watts of pure, clean sound, and is built of high-quality materials, in a shape to resemble the tailpipes of the spectacular 911 GT3. It connects via Bluetooth and offers clear stereo rendition wirelessly.
Limited to just 911 units, the Porsche 911 Sport Chrono ($1234) is an elegant, sporty chronograph with a PVD-coated steel bracelet and interchangeable rubber strap. Inspired by the design of the 911 Turbo S Exclusive Series, it features elegant details picked out in gold and is uncompromisingly built.
Sources
Audi – H.J. Pfaff Audi – hjpfaffaudi.com / Pfaff Audi – pfaffaudi.com
Porsche – pfaffporsche.com
Toyota – hallmarktoyota.ca
Mercedes-Benz – mercedes-benz-kitchener-waterloo.ca
Volkswagen – pfaffvw.com
Mini – minimarkham.ca
Harley-Davidson – pfaffharley.com
BMW – Pfaff BMW – pfaffbmw.com / BMW Markham – bmwmarkham.com
McLaren  – McLaren Toronto – mclarentoronto.ca / McLaren Vancouver – mclarenvancouver.ca
London City Chrysler – londoncitychrysler.com
Pfaff Mazda – pfaffmazda.com