Two Pfaff guys drive the new BMW X5
Blog
Nov 12th, 2018
This is what happens when two BMW enthusiasts get the keys to new product. Our Brand Manager (David) and Creative Director (Laurance) each drove our brand-new BMW X5 this weekend. Afterwards, they got together to share their first impressions of BMW's all-new luxury SAV.
David: Let's start with the looks. I was very much expecting the new X5 (from photos) to look a lot like its predecessor. After spending a few days with it, I've noticed some of the subtler details – crisper edges, a nicely surfaced hood, and beefy rear haunches. It's quite handsome for an SAV, and the looks definitely grew on me. The BMW Laser lights look especially interesting – even in the daytime.
Laurance: My, has the X5 gotten big. You notice the fact that it's longer, wider, and especially taller than the last version the moment you walk up to it – huge wheels, up to 22-inches, help to keep the proportions spot-on – and you especially notice it when you're inside. The front cabin is positively cavernous, and feels almost 7 Series in size, and the second row is noticeably roomier. Cargo space can expand from 650 litres to nearly triple that when the seats are folded down, and the signature tailgate is back, making access easier than ever.
David: The inside of the X5 is definitely a nice place to spend some time. In fact, the biggest evolution for this new generation of X5 is on the inside. Comfort and materials have improved ten-fold, and the X5 features some very innovative tech features, which we'll dive into later.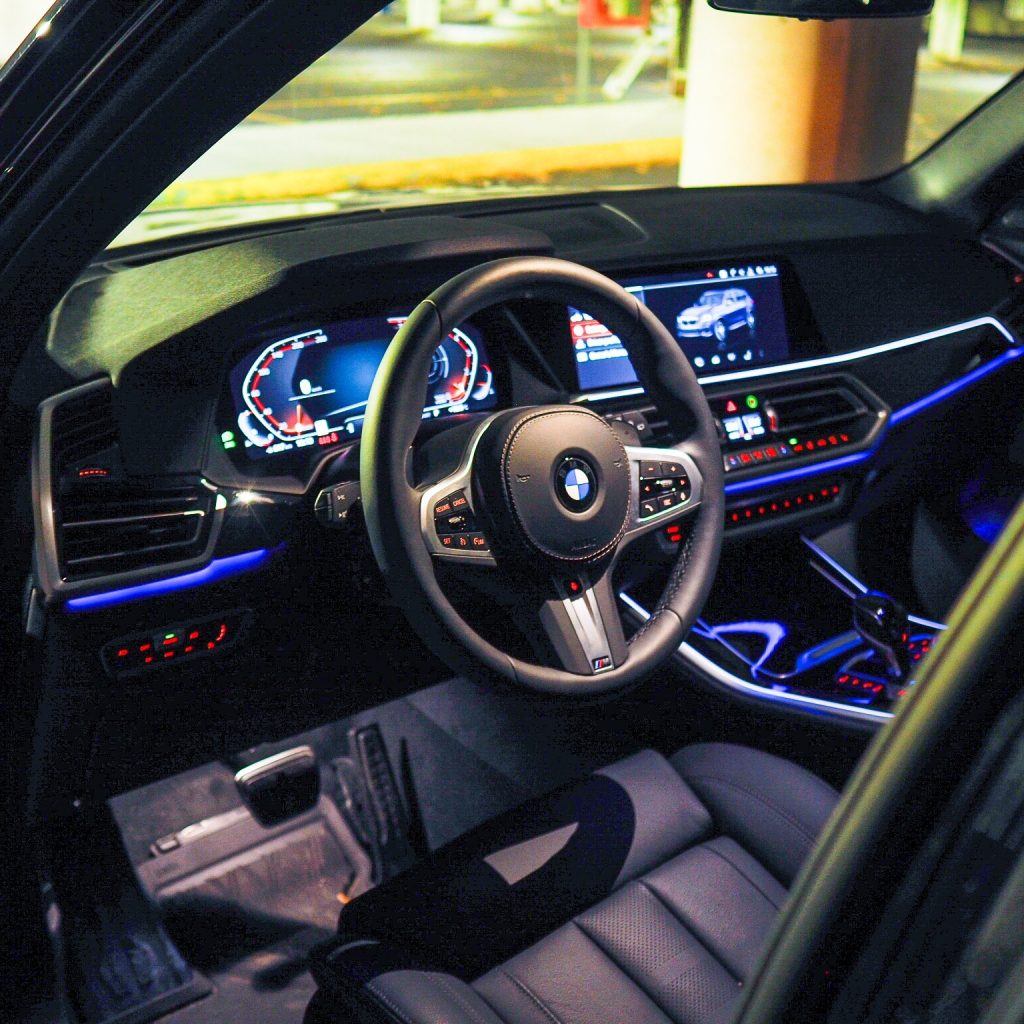 Laurance: The downside is that it feels massive around town in a way that the old one didn't. I spend a lot of time driving tight downtown streets and parking in tight confines, and in those situations, you are very conscious of the new X5's bulk, and very thankful for its tight turning circle and all of its cameras and sensors. Should you live in the suburbs or beyond, this is far less of an issue, and in terms of driving nimbleness, the new X5 is better than ever, especially with the adaptive dampers, air suspension, and rear-wheel steer.
 David: I can see it feeling "too big" for those who don't have a need to carry multiple occupants. I certainly noticed this when in my underground parking garage. Outside of that though, with my route taking me mostly through backroads all weekend, it's very enjoyable to drive. It feels a lot smaller than it actually is…not a lot of body roll either.
Laurance: Power. The outgoing X5 continued to lead its competitors with the refinement and overall performance of its drivetrain, and the new version has taken a big step forward, maintaining its lead. The "base" XDrive40i's inline-six now produces 340 hp and 332 lb-ft of torque, more than enough to shove the bigger, heavier X5 along with real energy. Coupled with an eight-speed automatic transmission and seamless all-wheel drive control, it is wonderfully refined in around-town driving and at a cruise but sounds fantastic when you're driving more aggressively.
David: I actually laughed out loud the first time I put it in Sport Plus. This thing is seriously fast, even with the base engine. A "truck" should not be able to move this fast. I really doubt that anyone buying the base engine spec will feel they are lacking on power.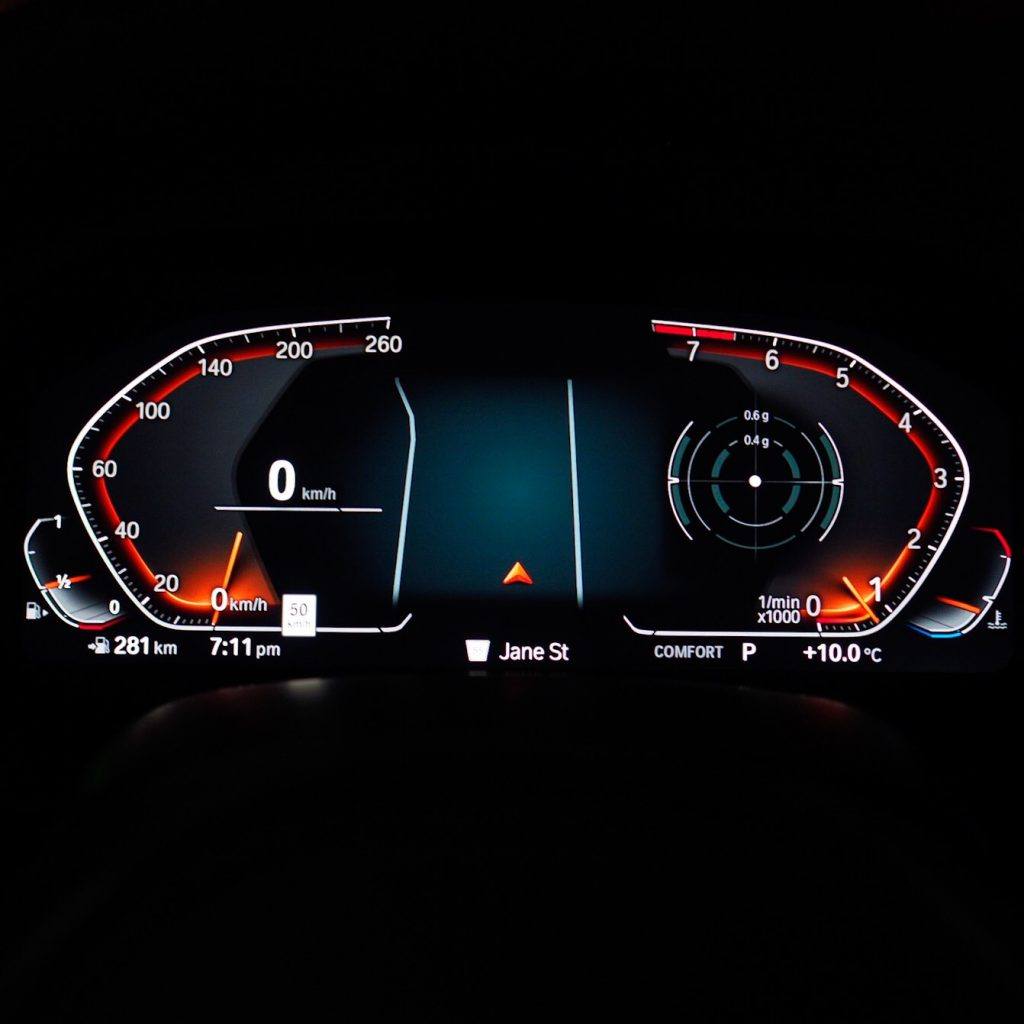 Laurance: The Eco Pro, Comfort, and Sport drive modes can each be customized, with varying levels of damping, throttle response, sound, and stability control calibration. Surprisingly, in around-town driving, I rather liked Eco Pro, which smooths out the power delivery, slurs the shifts into nothingness, and really compliments the wonderfully smooth ride – even on run-flat 22-inch tires.
David: Let's talk about the tech in the X5. When you enter the cabin, the crisp digital gauges and centre display screen light up and the accent lighting at nighttime was especially notable ('lilac' was my colour of choice). I fiddled with the gesture-controlled volume feature a bit, but short of being a neat 'party trick' for occupants, I'm not sure I'd get a lot of use out of this. I found myself gravitating more towards the nicely dimpled roller buttons present in the steering wheel – everything is right where you'd expect it to be. And don't get me started on the heated centre armrest/door rests…simply genius.
Laurance: The first reaction most of my friends had when they climbed inside the X5 was the size and clarity of its twin screens, which are truly impressive – a 12-plus inch instrument cluster as well as a central screen that can be operated by touch, by gesture, or with the traditional iDrive controller. Once you have the car set up to your preferences, it all works beautifully well, but taking the time to set the car up is going to take you a while: there are so many options in each area, and the menus are so deep, that you'll spend hours discovering what's possible. I'm glad that iDrive is still present and works better than ever – it is easier to operate on the move than any of the other options and keeps the number of fingerprints on the interior's multitude of gloss-black surfaces to a minimum. Special recognition to the instrument cluster here, which combines BMW's traditional two-gauge layout with an integrated map, G-meter, trip computer, and whatever else your heart desires.
Laurance: Just about the best thing about the X5 is that, if you turn off all the screens, shut down all the technology, and focus on the drive, it's still a genuine BMW at heart. The steering has perfect weighting and clarity; the throttle responds instantly and linearly to every input; and this big, tall, and massive SUV can still carve corners like a sports car.
David: The steering is a joy. Many fullsize SUV's behave in sort of a vague and floppy (or overly computer-controlled) manner. This is not that. The new X5 feels light on its feet. Kudos to BMW for the suspension work here.
Laurance: Importantly, it's not just the sheer capability of the X5 that impresses – though it's right up there – but the way all of the controls work so well together. The steering, brakes, and throttle all have similar weighting and feel, and the driving experience is immersive and involving in a way you would never expect of an SUV. Within its class, only the Porsche Cayenne provides a similar or better drive, though it comes at a fairly sizeable price premium for similar equipment.
David: For me personally, this actually takes the crown from the Cayenne. And I was a big fan of the Cayenne, but I feel this is the SAV I'd want to live with on a daily basis. You get a lot of features here for the price point. Granted, I have not driven the new-gen Cayenne yet. Speaking of flagship SAV's…
Laurance: While it may have a "5" on the back, the X5 feels like it has 7 Series levels of luxury and finish, with beautifully stitched leather on the seats, dazzling polished trim surfaces, and knurled controls for climate, infotainment, and even the air vents. Our test car wasn't even close to being fully-loaded – you can add on a full leather dashboard, multi-contour seats, massage, and more – but it lacked for nothing in terms of quality or usable luxury features. By far the best, and most surprising, was heated armrests on the doors and centre console that work in concert with the heated seats and steering wheel – something you don't know you need until you've experienced it.
David: I can see we both really enjoyed that feature! Like you said, I'll be hard-pressed to live without that now. How else am I supposed to make it through another Canadian winter? I think we can expect it to trickle into a number of the other models in the BMW lineup. I'd like to make another comment here, and this is coming from a BMW enthusiast. Typically in the past, BMW interiors and comfort have been a little bit lacking. What you give up in luxury and comfort, you gain from the driving experience. But this is the first BMW SAV where I really found the interior luxury/quality/comfort to be on-par with the driving experience. It's like you said – more 7 Series influence in here than anything else. Any final thoughts?
Laurance: Much like your average human being is bigger and heavier than he or she used to be, so the X5 has grown as well; it's a big, big vehicle, and packed with a dizzying array of features and technology. As such, it's a very different car from the original – much larger and more luxurious, targeted at a different audience – and BMW has brought in new models to address buyers that want something smaller, easier to maneuver, and more suited to urban spaces. For my own circumstances, the sweet spot in the BMW X lineup right now is the X3 M40i (or maybe even the upcoming X2 M35i), but if you live a big life in a big house with a big family, the new X5, and the upcoming X7 if you need even more space, is very tough to beat.
David: I'm also a fan of the X3 M40i but for myself, even without having the need to transport a large family around, I'd still pick the new X5 I think. There's just something about how special it feels every time you get inside. And – you're forgetting a very important point here. What other models have heated armrests?
For more info and current inventory, visit BMW Markham or Pfaff BMW in Mississauga.