Pfaff 8 Hours of Passion Challenge even bigger and better this year
Blog
Sep 26th, 2018
This past Sunday, Pfaff held its second-annual Pfaff 8 Hours of Passion budget track car challenge, which brought out over 350 Pfaff employees to enjoy a beautiful Sunday at Canadian Tire Motorsport Park. This year, over 160 employees joined the 200 or so members of the teams, donating $10 each to charity to spend the day at the track.
The passion and creativity of all of the teams this year was breathtaking. The Mercedes-Benz Kitchener-Waterloo team was one of our largest with over 30 participants in their first year, and the crew from Pfaff Harley-Davidson, put on an amazing exhibition with a custom flat-track bike built with the same $10,000 budget as the race cars. There were some great liveries, like Pfaff Audi Vaughan's "Harlequin" A4 and the "Polizei" Porsche 911 from Pfaff Autoworks, and also some amazing engineering ingenuity, like Hallmark Toyota's "Jecho," a Toyota Echo powered by a Volkswagen Jetta 1.8T engine.
Scott Hargrove, Pfaff's Pirelli World Challenge GT Sprint championship-winning driver, joined the program this year. He demonstrated the capabilities of the Porsche 911 GT3 R at the end of the day and also played "Stig" and set lap times in all of the budget track cars. It was amazing to see the time difference between a fast car, like the Pfaff Tuning/McLaren Toronto BMW 335i (1:40.8) and the GT3 R (1:22.3).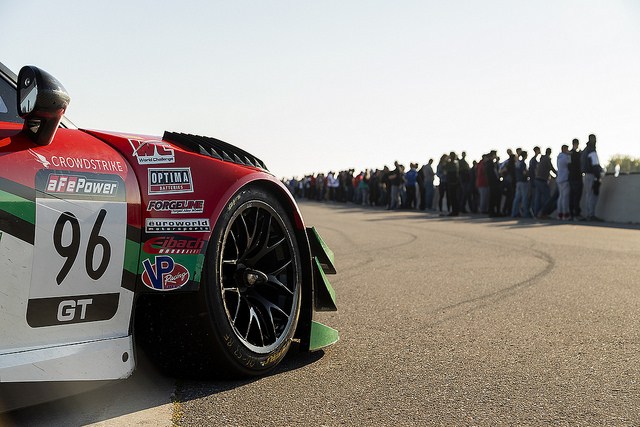 Scott's hot lap in each car combined with scores from the other competitions – a team member setting a fast lap in each car; an autocross challenge; and a head-to-head drag race. Only three vehicles didn't make it through all of the challenges, which was incredible given how much more highly-tuned the vehicles were this year. Teams were also scored by the judges on their presentation, team spirit, and catering.
Congratulations to our top three finishers: Pfaff Tuning/McLaren Toronto with a score of 148 out of 180 possible (and by far the highest engagement from the dealerships), Pfaff Audi Vaughan with a score of 146, and Pfaff Mazda with 143. Full results are below!
Click here for full photo gallery
Overall Scores
1. Pfaff Tuning/McLaren – 148/180
2. Pfaff Audi – 146/180
3. Pfaff Mazda – 143/180
4. H.J. Pfaff Audi – 139/180
5. TIE Mercedes-Benz KW – 129/180
5. TIE Pfaff BMW – 129/180
6. TIE BMW/MINI Markham – 126/180
6. TIE Hallmark Toyota – 126/180
7. London Chrysler – 120/180
8. Pfaff VW – 79/180
9. Pfaff Autoworks/Leasing – 77/180
10. Pfaff Porsche – N/A