Groundbreaking ceremony welcomes Pfaff Subaru to Guelph
Blog
Sep 7th, 2018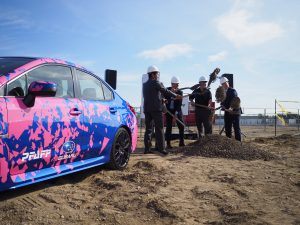 Pfaff Automotive Partners today broke ground on their new 2,050–square metre (22,000–square foot) Subaru dealership today during a ceremony attended by Mayor Cam Guthrie, Subaru, and other community partners.
Guelph's newest dealership will be built in the north end of the city at 12 Wilbert Street near Woodlawn and Elmira Roads. Pfaff Subaru will add to the existing strength and diversity of automotive dealerships already located in the area, providing new options for Guelph residents.
"I am thrilled to welcome Pfaff Subaru," said Mayor Cam Guthrie. "This new dealership brings investment, jobs, and more consumer choice to our city. It's a great addition to Guelph."
Pfaff Subaru are working with local contractors, including Guelph-based Alliance Roofing, to build their new dealership. They aim to finish construction by December this year. Twenty-five jobs will be created when Pfaff Subaru first opens with the potential for more employment growth once the dealership gets established.
Pfaff Subaru chose to invest in Guelph because the community matched their needs on key decision criteria including location and quality of life. Guelph's ideal location paired with convenient access to neighbouring communities made Guelph an excellent fit for a new dealership.
"Guelph is a growing, vibrant community that presents easy access from all major metropolitan centres and offers a very attractive quality of life," said Chris Pfaff, President and Chief Executive Officer at Pfaff Automotive Partners. "Since making the decision to locate in Guelph, it has been a great ride and we're excited to join the community."