The Mazda6 makes sedans great again
Blog
Aug 24th, 2018
Whatever happened to the mid-size sedan? Long the best-selling class of vehicle in North America, in the last few years, SUVs have usurped their sedans' sales supremacy, to the point where some domestic brands have decided to give up on cars altogether. The popularity of modern SUVs is understandable; they're easier to get into and out of, they let you see over traffic, and you no longer have to accept as many compromises in performance, handling, or fuel economy. But for keen drivers, or those who prefer to pilot something of slightly sleeker profile, there's still something about a well-sorted sedan. That's something
Mazda
has always understood more than most, so much so that the latest Mazda6 feels like a testament to everything that makes sedans great.
For one thing, it's a looker. Though it's a big car – larger inside and out than the previous generation and a whole class bigger than the original Mazda6 – it hides its size beautifully under smooth, flowing lines and with big wheels.
Mazda
has resisted the temptation to get too fussy with the styling, too. There are no extraneous slashes or trim pieces, meaning that unlike a lot of sedans that come across as trying too hard, this is a car that will age beautifully. What little adornment is there – from the subtle framing of the five-point grille to the polished window surrounds and the tiny, jewel-like lights – is beautifully presented, and the build quality is impeccable.
The 6's smooth, sleek looks are an accurate depiction of its driving experience too. 2018 GT and Signature models now come with a lightly-turbocharged 2.5-litre four-cylinder that produces 250 horsepower and a 310 lb-ft of torque at just 2,000 rpm. It is a beautifully refined, easygoing engine, near-silent at idle, producing a cultured silk-rip sound under hard acceleration, and working in concert with the buttery six-speed auto to deliver its torque in a smooth, seamless rush. It takes a glance at the high-res gauges or heads-up display to realize just how fast the new turbo 6 is, because it never feels like it's straining, and it never advertises its speed.
Like all Mazdas, it handles, too. The steering is light, as you might expect of a big sedan, but you get terrific feel and accuracy, and the 19-inch all-seasons grip way harder than you might expect. Despite that, the ride quality is superb, the 6 soaking up pavement bumps and bruises as well as any hefty German luxury car, while retaining a deft responsiveness that is distinctively Japanese. There's something about how all of the controls need just a gentle touch, how you can stoke the car along at a really decent clip with tiny inputs, that makes the 6 feel special – and unlike any other midsize, front-drive sedan on the road.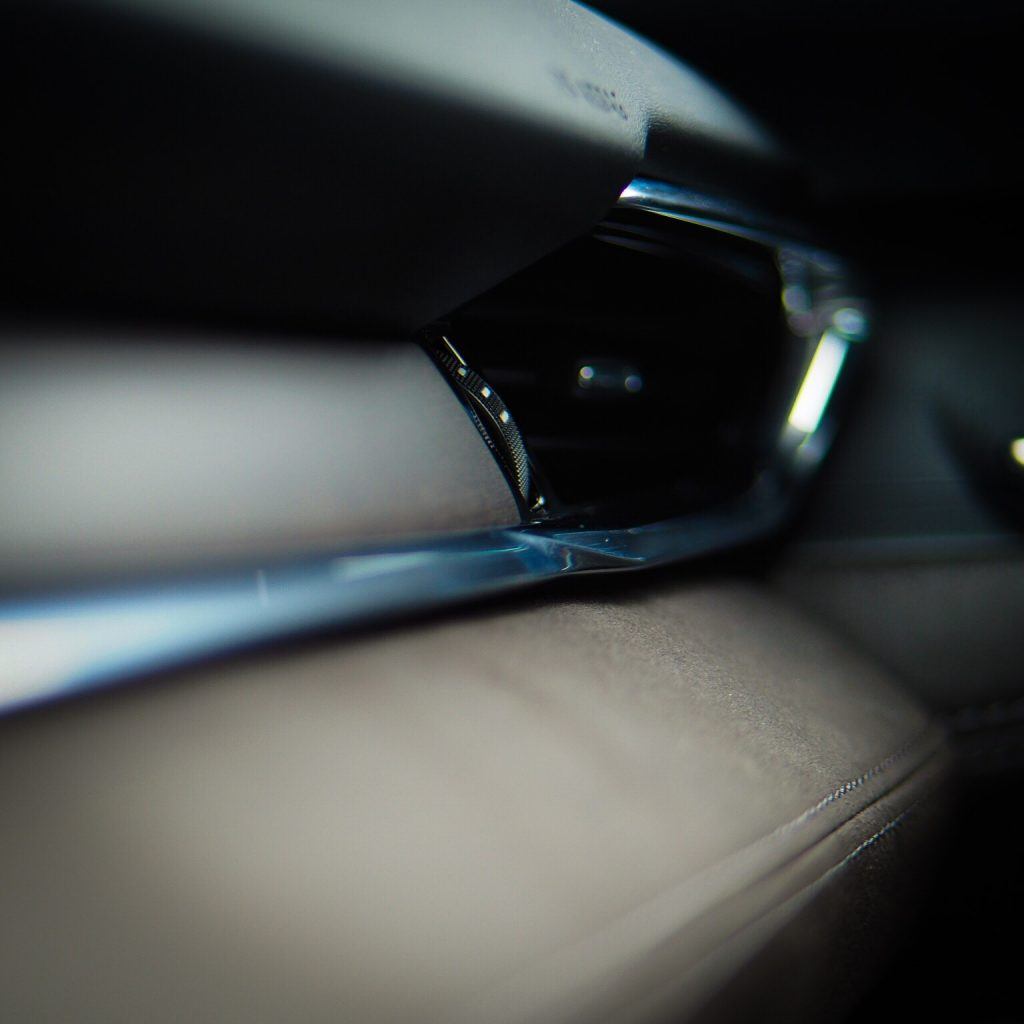 By far the best thing about the new 6 is its interior. Even in base GS trim, it's a pretty impressive thing, following the same gently-curving, beautifully-finished, lightly-adorned philosophy as the exterior. The primary interfaces for the driver – seat, steering wheel, shift lever – are all much nicer than they need to be for the price, and the infotainment system is clear and simple to use. Move up to the higher trim levels, though, and things get really impressive: not only do you get leather on the seats, navigation, and more speakers, but you get what is arguably one of the nicest interiors on the market, period. Instead of the obvious faux-stitched leather and shiny wood for the dashboard, for instance,
Mazda
substitutes soft-touch fabric that wouldn't look out of place on a custom sofa, matte-finish "sen" wood, and sculpted aluminum trim that dances and twists around the air vents it frames. There's a beautiful rubberized roller blind over the cupholders, there are knurled aluminum knobs for climate and infotainment, and the resolution of all the screens and displays, including digital instrument cluster, is stunning.
While the 6's interior may not be quite as versatile as a taller SUV's, there's no shortage of room front or rear in its spacious cabin, and the separation of the trunk from the passenger area makes for a more refined drive; you can fold the rear seats if you need extra cargo room beyond the cavernous, well-finished trunk. Particularly on higher trim levels, a raft of active-safety features that go beyond the standard braking, traction, and stability-control systems keep you and your family safe: lane departure warning and assist, automatic pre-collision braking, pedestrian detection, 360-degree cameras, and more.
For features, performance, quality, and arguably style, the new
Mazda6
is arguably as comprehensive and as solid a package as you'll find in any German luxury sedan, for thousands less. In the way it goes down the road and responds to your touch, the 6 is also a special package, with a litheness and feel you won't find in any SUV, no matter how good it is. Drive one and you'll understand why there's still an argument to be made for sedans, and why they'll always have a place in the market for people who care about driving.