Test drive: Mini John Cooper Works
Blog
Aug 20th, 2018
The modern world's performance cars really kind of divide themselves into two camps. There are the science experiments that pursue acceleration, grip, and top speed, designed to push the envelope of automotive engineering (and human achievement), whose abilities can only be fully utilized on a racetrack, and which are most of the time more capable than the person behind the wheel. Then there's the more usable kind of performance car: powerful, grippy, and accelerative but designed to deliver thrills primarily on the street. Given that I'm not a racing driver with a god-given talent behind the wheel, and given that I spend 99% of my time off the racetrack, I've always gravitated more towards the second.
Just because a car is street-biased doesn't mean it can't be exotic.
McLaren
deliberately made the 570S, with its carbon-fibre tub, dihedral doors, and twin-turbo V8, into a street car rather than a track car, with narrower tires than it would need on a track, no active aero, and conventional rather than hydraulic dampers. The new
Porsche
911 GT3 is now available with a street-biased touring package, losing the rear wing, gaining a manual transmission, and shifting its 9,000-rpm focus towards responsive canyon-carving rather than ultimate lap times. But arguably the most fun and most diverse class of street-biased performance car is the hot hatchback – a practical, daily-usable shape enlivened by big power, upgraded suspension and brakes, and a whole lot of attitude. And of all of the hot hatchbacks out there, the
Mini John Cooper Works
is arguably the hottest.
Mini's
legacy in turning pedestrian practicality into giant-killing ability is, of course, somewhat unparalleled. John Cooper started upgrading the humble Mini for race and rally work back in the late fifties, resulting in several Monte Carlo Rally wins, track victories, and national one-make championships. With the BMW-led re-launch of
Mini
in the early 2000s, John Cooper Works sort of became the brand's in-house M division, offering not only dedicated high-performance versions of the core models, but also a raft of performance and cosmetic upgrades for regular Mini drivers. This black-on-black Mini JCW combines both approaches in a sinister, yet still hilarious, premium performance hatch whose abilities, like its storied predecessors, are far beyond what you might expect given its shape and spec sheet.
The
Mini
, of course, isn't quite as mini as it used to be, but it still sits on a footprint that's comfortably smaller than something like a
Volkswagen
Golf GTI. The latest generation's expanded wheelbase and track not only benefit interior room, but also enhance the car's handling, which is as lively as it's ever been, with a welcome added dose of high-speed stability. Despite big power and front-wheel drive, the JCW's responses to steering inputs are immediate and faithful, the car tucking immediately into corners and tracking faithfully along no matter what the speed. Cornering grip from the (NAME) summer performance tires is stunning given their relative narrowness, and the new suspension tackles mid-corner bumps and pavement imperfections in its stride. Thanks to switchable adaptive dampers (you can link their stiffness to your choice of drive mode, or for the street, leave them in their softer setting all the time), the JCW now rides as well as it handles, making daily driving a lot more comfortable than it used to be.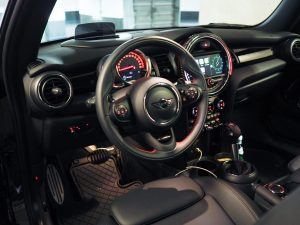 The star here is the engine. Derived from a new modular family of BMW motors, the JCW's turbocharged four-cylinder produces 228 hp and 236 lb-ft of torque, which on paper doesn't seem like much until you also realize the car weighs just 1,290 kg, making it literally hundreds of pounds lighter than some of its competitors, and also many serious performance cars. It's not just the power to weight ratio, however, that's fantastic; it's also the delivery. The four-pot delivers a smooth, lag-free swell of torque from idle to redline that, while doing nothing to disguise its turbocharged nature, is easy to control with precision and has tons of character. This specific car, fitted with the optional dealer-fitted
John Cooper Works
titanium exhaust with carbon-fibre finishers, also came with a remote control to crack open valves in the muffler to take the volume to comically extra-legal levels; it looks great and is a lot of fun, and the fact that you can quiet it down makes it fine for everyday use too.
One thing I wasn't expecting to like about this specific JCW was the optional six-speed automatic transmission – in my mind,
Minis
must be manually-shifted – but it's actually terrific in practice. Gears are swapped swiftly and crisply, and making the Mini a two-pedal car in the urban cut-and-thrust actually makes it feel more, not less, responsive. Sliding the shift lever to the left engages a more aggressive mode to holds lower gears longer (choosing sport mode with a toggle on the dash also sharpens the throttle response, steering, and stability control), and you can slap it up and down, or use the steering wheel-mounted paddles, to up- or downshift instantaneously. While my personal choice would still be a manual, I'm no longer prejudiced against the auto.
You no longer need to sacrifice much in space or equipment to drive a
JCW Mini
every day. The larger platform means there's tons of leg-, head-, and elbow-room up front, while the rear seats are notably more spacious than they used to be as well. Cargo space behind the rear seats remains tight, but if you need more, you have the choice of five-door, Clubman, or Countryman bodies with more space and a similar drivetrain. BMW's technology infusion means that, should you tick the appropriate boxes, you can now have a Mini with a high-resolution heads-up display, a raft of active driver aids, and a killer infotainment system with Harman/Kardon sounds, wireless Apple CarPlay, and more. Nifty design touches still abound; a backlit "mood ring" around the centre console gives you a feel for revs, parking sensor proximity, volume, temperature, and more depending on which control you're using, and chromed toggles still line up on the dash and roof panel for minor controls. The cabin's build quality has taken a huge step forward; the sporty seats are much more comfortable for long drives without sacrificing any of their sporty bolstering, and the finishes and build quality are as good as any other premium car.
Of course, with a base MSRP of just under $35,000 before taxes and fees, and maxed out with all the toys at close to $50,000, one could argue that a
Mini John Cooper Works
is actually a premium car. In the way that it looks and feels, and especially in the way that it drives, that would not be a mischaracterization.