McLaren 570S by Pfaff Tuning, Novitec, and Forgeline
Blog
Jul 31st, 2018
You'd think that being in the fortunate position to purchase a vehicle like a McLaren would make it easy to stand out from the crowd. That its carbon tub clad in swooping bodywork, flying buttresses and billionaire doors would be sufficient for distinction from your peers. But, should you be in the position to own a one, there's a good chance your peers are driving cars that attract a lot of attention as well, and that factory – as amazing as it is, as customizable as it is – isn't quite enough.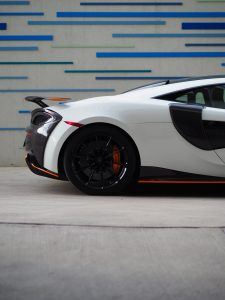 It turns out that even for supercar owners, the struggle to stand out is real. You work hard, you achieve success, you reward your effort with an exceptional car – and you need to take it further. Fortunately, the aftermarket for supercars has never been more vibrant, and the quality and execution of post-purchase customization has never been better. Case in point is this McLaren 570S, customized by Pfaff Tuning with a variety of parts from preferred suppliers such as Novitec, Forgeline, Pirelli, and more. Together, the enhancements create a better-driving car, but more importantly, one with a distinct look and feel that is unlike any other McLaren on the road.
What you notice first about this 570 are the exterior enhancements by Novitec, a company best known for its work on Ferraris, but which has branched into the growing
McLaren
market. This 570 features a full Novitec aero kit, including a wing, side skirts, front splitter, rear bumper trim, side intake trims, and a engine cover scoop. Not all of it is to my taste (personally, I'd do without the wing and engine cover, which both restrict rear visibility, and the side intake trims, which interrupt the line of the 570's distinctive air intakes), but there's no doubting the quality of the pieces, which are beautifully finished and which fit perfectly after installation by
Pfaff Tuning
. The 10-spoke Forgeline wheels, however, really enhance the look of the car, particularly with their gloss black paint to complement the car's white exterior, carbon trim, and tasteful vinyl accents on the air intakes, side sills, and rear diffuser.
The 570's twin-turbo 3.8-litre, 562-hp V8 and seamless-shift seven-speed gearbox have been left untouched – with a carbon structure, the 570 is plenty fast in all situations – but a newly-developed Pfaff Tuning exhaust has been added to this car. Not only does it look badass, with circular, no-nonsense black tailpipes exiting where the more sculpted, stylized factory units would emerge, but it sounds great too. When cruising, the Pfaff Tuning exhaust is barely more audible than the factory unit, meaning that the car's refinement isn't affected, but when driving harder, it introduces a welcome dose of aggression to the engine note, with an angry bark as you climb the rev counter, and a shotgun blast with every upshift.
On the handling front, this 570's continues to offer a brilliant ride-handling balance with immediate steering response, impressive stability, and a friendliness and small-car nimbleness that are all out of proportion with its big power and bigger price tag. Get over the fact that you're in a carbon-tubbed, twin-turbo supercar, and you start chucking the 570 around in corners like a sports car. A Novitec suspension kit lowers the car without hurting its ride or handling (front-axle lift on this car means it clears speed bumps and steep driveways without issue), while Pirelli Trofeo R tires allow it to create massive dry cornering grip, while sacrificing some all-weather ability. The impressive thing about the Trofeos is how refined they are despite being almost slicks, and how they still allow the 570 to retain that chuckable feel.
Not everything, of course, on this car is going to be for you. Certainly, from a cosmetic standpoint, were I to spec my own Pfaff Tuning-customized 570, there are things I would do differently. But that's the beauty of customizing a car – even one this expensive. Have a look at the various options available, choose which bits you like, and you can end up with something that's truly yours – and something that goes beyond what even the factory can offer. The price to stand out may be significant, when you're customizing your McLaren, but can you really put a price on complete individuality?