Review: 2018 Subaru Outback
Blog
Jul 30th, 2018
The first Subaru Outback, first introduced to North America in 1999 for model year 2000, was, if we're honest with ourselves, simply a jacked-up Subaru Legacy – and all the better for it. When the original Outback was launched, SUVs were still mostly body-on-frame dinosaurs, imposing to look at, lumbering on the road, terrible on fuel. Subaru outsmarted them with the styling and high seating position that appealed to the inner outdoorsy person in all of us, while delivering the handling, nimbleness, and efficiency of a family car – because that's exactly what it was. In the context of its market, the Outback was a revelation; fun to drive, versatile, and tough enough to handle rough roads with none of the compromises of a truck base, in some way it paved the way for a new generation of car-based crossovers, which now dominate the market.
As the SUV market has evolved, so has the Outback, and with each generation it has grown more and more different than the Legacy on which it's been based. Not only did subsequent Outbacks pack more features and luxury, but they also grew in technology, size, and stature, to the point that, with the latest Outback, it's very much its own vehicle, and one that competes more with SUVs than family cars. The last Outback I drove was in model year 2008, and it was a pretty nice car back then, with a spacious interior, high-end stereo, leather seats that wouldn't be out of place on a German import, and easygoing, effortless performance. Getting into one a decade later, it's amazing, given that high baseline, how much it's improved since then.
The size, and the space, is what really gets you. While the Outback still has a relatively compact, manageable footprint – and one that's easy to park thanks to a tight turning circle and great visibility – it feels like it's grown into the next class up in terms of interior space and comfort. There's ample room for five front and back, and the cargo area behind the seats is huge, expanding to cavernous should you fold the rear seats down. The seats, always good on any Subaru, feel like high-end armchairs, upholstered in rich leather, with thick padding and support for long, adventurous drives. The two-tier dashboard is divided by strips of wood and aluminum, and a massive touchscreen cascades down the middle, presenting a clear infotainment interface with smartphone integration, navigation, satellite radio, and more. The original Outback was a jacked-up family car, to which Subaru added luxury and features over time; the new Outback feels like it's been designed as a luxury SUV from the start, and integrated into a package and footprint that make it manageable in the city.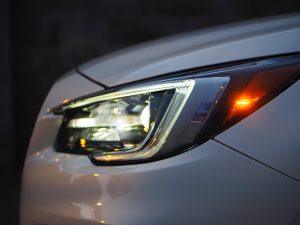 Drive the Outback and you realize that the same advantages that characterized the original remain in the latest version. It's bigger than it used to be, but no less nimble and no less friendly to drive. The seating position is high and upright, and unlike the latest fashion, the window sills are relatively low, making for a great view all around. The steering isn't truckish at all, delivering great road feel and with a light, easy touch that carries through to the throttle and brakes. On the road, the Outback feels smaller, nimbler, and lighter than it really is, and when the road opens up, or starts to curve, it's surprisingly responsive, and a lot of fun to drive despite the tires' tall sidewalls and the long-travel suspension. While the big
Subaru
rolls a fair bit in corners, it generates more cornering grip than you would expect, and the symmetrical all-wheel drive system means traction at any speed is rarely an issue.
Credit, too, has to go to the smooth, responsive drivetrain. Base Outback models come with a 175-hp flat-four, but 3.6R models, starting at $35,795, come with a 3.6-litre naturally-aspirated flat-six that generates 256 hp at 6,000 rpm. In concept, it is remarkably similar to a Porsche 911 engine and contributes to a low centre of gravity, but its focus is smoothness, refinement, and flexibility (though it does sound a bit like a Porsche smothered under a fluffy duvet at high revs). Coupled to a standard continuously-variable transmission that has an infinite number of ratios to choose from, the 3.6 wafts the Legacy breezily along in the city, and has impressive passing power well past the legal speed limit, while the transmission contributes to improved fuel economy. It's a well-judged drivetrain, and one that suits the Outback's laid-back, luxury-car vibe.
Despite the extra size and luxury, one thing that hasn't changed about the Outback is value. The range starts at under $30,000 for a 2.5i, which has all of the space and versatility you need, and moves through Touring, Limited, and Premier trims with the optional EyeSight suite of active-safety systems. Graduate to the 3.6R, and you'll pay $35,795, with a fully-loaded 3.6R Premier with EyeSight topping out, with no other options, at just $42,195. That really isn't a lot of money for a versatile, six-cylinder luxury car with an interior as spacious, and as versatile, as the Outback's, and one that is still more fun to drive than a conventional SUV.
Pfaff Subaru opens in Guelph later this year. Visit our website to learn more.