Preview: 2018 Audi S4
Blog
Mar 30th, 2017
The S4 has been a staple in Audi's line-up as the go to performance luxury sedan offering power, style, performance, and high quality materials. The S4 has almost always featured an engine most other manufacturers envy: the B5's 2.7L twin turbo, the B6/B7 4.2L V8, the marvellous 3.0L supercharged V6 from the B8 platform. Now with new…everything, it is time for the 2018 S4 to earn it's place at the table.
Powerplant
First things first, the 2018 Audi S4 is now an actual 3.0T, sporting a 3.0L TFSI single turbo engine belting out 354hp and propelling you to 100km/h in 4.7 seconds. Though the supercharger whine from the previous platform will be missed, the new motor is triumph. Offering power as low as 1370rpm, the 3L top mounted single turbo whistles away as you punch through the 8 speed automatic gearbox.
In addition to powerplant, we see a complete change in style in line with Audi's next generation A4. In fact at first glance, the S4 could be mistaken as a well equipped A4 Technik. Look twice though, and you will see the massive front brakes, rear moulded lip spoiler, and more muscular front bumper.
Interior
Inside, the S4 is nothing short of spectacular. Carbon, alcantara, and leather cloak nearly everything in sight. The thick, flat bottom steering wheel (standard) is supremely comfortable and confidence inspiring. You will also find Audi's new climate control system, Multi-Media Interface, and Virtual cockpit. This reviewer was surprised to find massage function on the S Sport leather front seats, as well as power adjustable lumbar, and power adjustable side bolsters to ensure you are truly locked in. Heated rear seats are optional as well.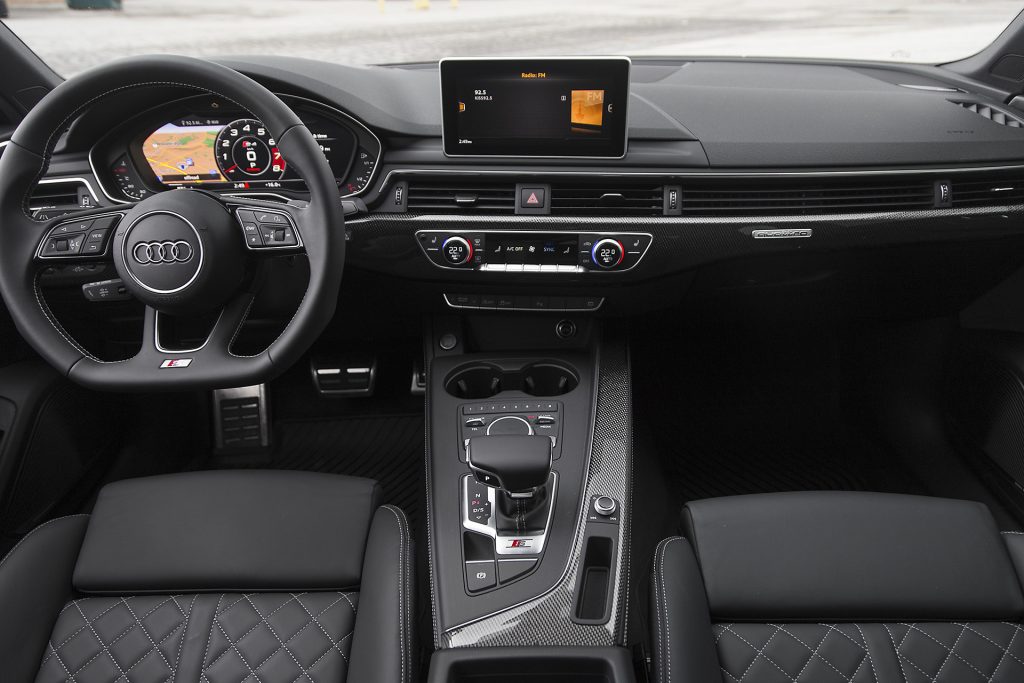 The new S4 comes equipped with all the new tech you would expect from Audi, with Audi's Advanced Driver Assistance Package optional.
Driving the new S4 is instant satisfaction. Upon first notice, you would figure Audi has really dialed in that piped exhaust noise into the interior. But roll the windows down and you will uncover the true sound of the 3.0T; a symphony of turbo whistle, exhaust grunt, pops and bangs as standard.
The 2018 S4 is a force to be reckoned with, and with a starting price of $58,000.00cnd it will open up a world of possibilities for performance car buyers offering luxury beyond its class, and performance to back up the S heritage.