Pfaff Motorsports wins world competition debut of new 911 GT3 Cup at Sebring
Pfaff Auto Group
Mar 19th, 2017
Pfaff Motorsports came away from its first race of the season in the Porsche GT3 Cup Challenge USA by Yokohama at Sebring with great success, which included the global race debut and first-ever win for the new Porsche 911 GT3 Cup car (Type 991.2).
Following a round of testing at Barber Motorsports Park and Sebring earlier this month, the team arrived to Sebring with driver Orey Fidani (Gold class), and new additions Shaun McKaigue (Masters class – Fiorano Racing) and 2014 series champion Scott Hargrove (Platinum), both driving the new generation cup car.
Ahead of race one, Pfaff put themselves in great position, with Hargrove, in the #9 Castrol-Pfaff Motorsports GT3 Cup, starting second on the grid, and Fidani and McKaigue both setting new personal bests in qualifying at the old air force training base.
Hargrove wasted no time at the drop of the green flag in race one, making a calculated, high-speed move in the #9 Castrol GT3 into turn one on lap three, taking the lead and controlling the pace. Unfortunately for Fidani, his success was cut short on the same lap after he was struck by another car that lost control going into a corner, causing significant suspension damage to his #13 Orlando Corp. GT3 and forcing him to retire.
In the Masters class, McKaigue was leading the way in his #34 FER-PAL Infrastructure GT3 and was as high as seventh overall until a spin dropped him down the pack. That disappointment was short-lived, as he quickly climbed his way back through the field to finish on the podium and third in-class.
Looking to repeat their success in race two, Hargrove was off to a great start once again until contact with a corner sign blocked his front grill, causing the engine to overheat early in the race. Fidani and McKaigue's misfortunes were similar to their race the day previous, as the #13 once again suffered suspension damage, and McKaigue had a late-race spin putting him near the back of the field.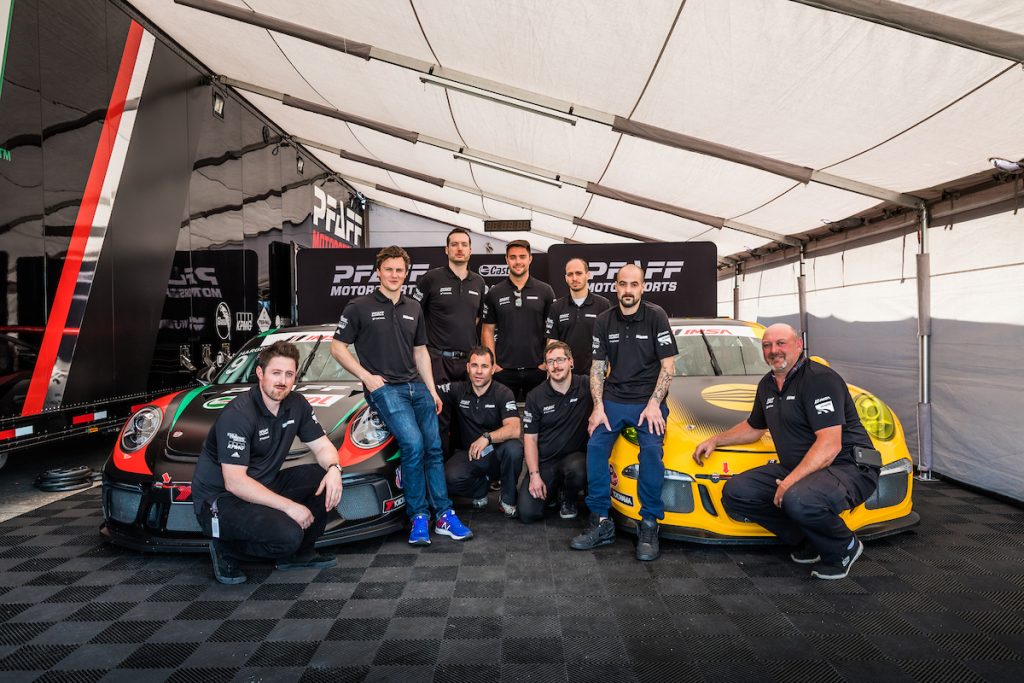 Despite the result of the second race, the strong pace by each of the cars, including a top-three for Fidani prior to his retirement, leaves a lot of promise for the opening round of the Porsche GT3 Cup Challenge Canada, taking place during the Victoria Day SpeedFest weekend at Canadian Tire Motorsport Park from May 19 to 21, 2017.
Scott Hargrove
On his debut with Pfaff Motorsports: "We did a test here at Sebring earlier this month, and I'm really enjoying working with the team so far. It's a great group of guys and I have amazing teammates. It's great to be part of a team with a lot of youth in it. Everyone has gelled really well, so I'm really enjoying it. They want to win as bad as I do, and that's really pushing us to be at the top of our game."
On his race victory: "After qualifying we still wanted a little bit more, and I knew qualifying second that I still had a really good shot at the win. When the race started we were right on the tail of first place, and I knew I had a good car under me, and I had this one opportunity at turn one and I took advantage of it. From there, I was just able to gauge the pace. The Pfaff Motorsports car was beautiful, and the long-run pace was great. But I'm really excited to come away with the brand-new car, and its first win worldwide. So I'm super excited."
Orey Fidani
On his new season with Pfaff Motorsports: "The car has been awesome. It's the best it's ever been. It's exciting to start a new season with the team, everything is organized and set up to get right into it. I'm really looking forward to getting the new season started."
On his qualifying pace: "Qualifying went well, I set a new personal best – which is great – and I seem to be getting faster and faster every time out so I'm really happy with that."
Shaun McKaigue
On his debut with Pfaff Motorsports: "We're (Fiorano Racing) really excited to be joining Pfaff this year. We're really excited to join forces between our crew and theirs. They've been a tremendous help – they have a huge leg up on the new car, and they're very professional in everything they do."
On his qualifying pace: "Every time we go out there, we're going faster and faster. We qualified at a faster pace then we ever have, so that's as much as we can expect. And hopefully we can translate that into a decent position at the start and try and have a good and solid finish, and take this experience into the new season."