McLaren Toronto wins Sebring podium in all-new McLaren 570S GT4
McLaren
Mar 19th, 2017
A weekend of technical and mechanical challenges weren't enough to slow down the determination of the Pfaff Motorsports/Motorsport in Action (M.I.A.) team in Sebring, as they hunted for their first podium in just their second race as a team with the all-new McLaren 570S GT4.
After testing in Sebring earlier this month, the team returned for round two in the Continental Tire SportsCar Challenge (CTSCC) GS class and were immediately struck with technical issues. Going into final practice and qualifying on Friday, the no. 69 car had only seen one lap of action.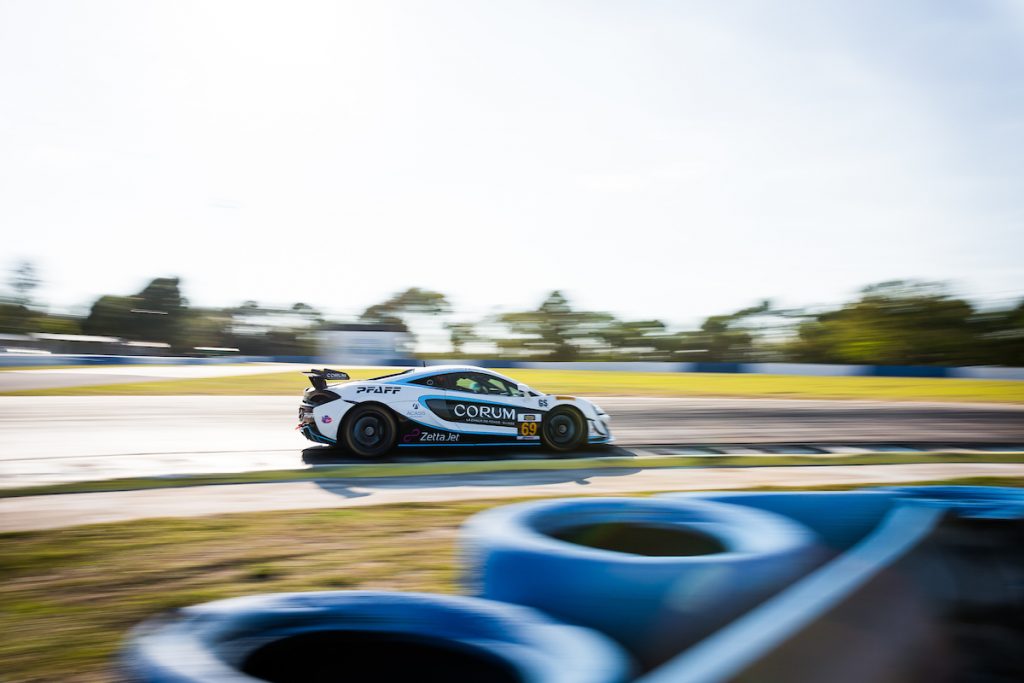 Looking to avenge a disappointing debut for the new team and car at Daytona in January, driver and National Brand Manager for McLaren Canada, Chris Green, took that motivation and qualified the car in a strong fourth position at the notoriously demanding 17-turn airfield base.
Off the start of the Visit Sebring 120, Green quickly jumped a position and was into second place before turn one. Staving off numerous challenges from the no. 77 C360R McLaren 570S, Green managed to pit the car in third position for a driver switch with teammate and recent Daytona 24 Hour winner, Jesse Lazare for the final stint.
Coming out in seventh position, Lazare posted lap after lap of consistent times, cutting through the field in the same manner that saw him capture the Porsche GT3 Cup USA title last year. In the final laps, steady pressure on the no. 77 resulted in an opening that Lazare was able to exploit for a commanding second-place finish and the first podium for the new team.
Motorsports in Action and Pfaff Motorsports will be looking to carry its strong result forward when they race in round three of the CTSCC at Circuit of the Americas in Austin, TX, from May 4 to 6.
Chris Green
On qualifying: "Our expectations for qualifying were extremely high today, mainly because we didn't complete a single lap yesterday. We had an hour and 45 minutes of track time and were dealing with some electrical and mechanical issues that just didn't allow us to drive. So today, we basically had to do two hours of learning in 20 minutes of practice, which was delayed by a red flag as well. So to finish P4 in qualifying, I'm obviously very happy, and I think we have a very good car for the race. You can't win qualifying – you can get pole of course – but I think it's the first step in where we'd like to be in targeting a podium."
On the race: "We had a good start and ended up second. The car was a little bit more difficult to drive today, so I wanted to maintain the car and make sure I brought it home safe. I handed over the 570S to Jesse [Lazare] in a strong third place. We lost a little bit on our pit stop, but not enough to make a difference. That last stint by Jesse was amazing – he did everything he needed to and more. I'm so proud of Jesse and M.I.A. and Pfaff McLaren. It was a great day."
On teammate Jesse Lazare: "It's amazing to see our results at the end of the day and how close we were. Our best laps were less than one-tenth apart, so it's a great lineup. I'm incredibly happy to work with him, and the team has done an incredible job to give us a car that we can win with.
Jesse Lazare
On the race: "For Chris's part, he did great to pit the car in third and very close to the leaders. Unfortunately our timing for the driver switch kept Chris out for an extra lap, but once I got out there, I just had to focus and go after the cars one by one. The last few laps I was in third and making a lot of fake passes, so my move for second wasn't risky, but it bumped us up. Finishing second, and the top McLaren, is great for us and the team – especially being that it's just our second race together."
For more information, visit www.pfaffmotorsports.com.