Review: 2017 Audi A4 Allroad
Blog
Oct 7th, 2016
As someone whose automotive tastes lean towards low-slung, manually-shifted, corner carving coupes, I wasn't expecting to like the new Audi A4 Allroad, let alone love it. But this versatile, roomy, luxurious, high-tech, jacked-up wagon really wormed its way into my heart with its combination of style, refinement, and overall grace. It's a smooth, comfortable daily driver and easily the most appealing model in the diverse and excellent new A4 lineup.
What makes the Allroad so appealing, I think, is its combination of the impressive technological elements of the new A4 – class-leading driver assistance systems, Audi Drive Select, 7-speed S Tronic transmission, Virtual Cockpit – with a general attitude that is ideally suited to life in the urban, suburban, and exurban jungle. Riding high over its 18-inch alloys with thicker sidewalls on the tires, wrapped in protective, but still attractive, body cladding, the new Allroad has a broader range of abilities than its sedan brethren.
Like all A4s, the highlight of the new Allroad is its spectacular new interior. Particularly in Technik trim, it's a festival of impressive technology, all easily accessible and understandable thanks to the industry's most intuitive HMI (human-machine interface). Two major highlights are the new Virtual Cockpit and Audi smartphone interface. Virtual Cockpit replaces the conventional set of gauges with a high-resolution TFT screen that can flip between virtual gauges, a full-size navigation map, and other settings; there's nothing like it anywhere from any other brand, and it intelligently presents so much information in an intuitive way. The new Audi smartphone interface gives you a direct gateway to your Android or Apple phone, accessing its functions through the familiar phone interface, stripped down and simplified for automotive use. Other highlights include superb eight-way power seats, whisper-quiet HVAC system, and Audi's now-legendary materials and build quality.
That quality extends, of course, through a much roomier rear seat than the previous Allroad as well as a large, perfectly-shaped, and versatile cargo area that can be endlessly configured thanks to underfloor storage compartments, a removable cargo cover, folding rear seats, and solid tie-down hooks. Indeed, the finishing in the cargo area is so nice that you may want to protect it with an Audi cargo liner if you're going to sling active-lifestyle gear in there.
Aggressively-treaded all-season tires and extra ground clearance make cottage trails and gravel roads a breeze, without sacrificing any of the A4's impressive ability on pavement; the Allroad is still grippy, stable, and utterly unflappable on any road in any weather thanks to standard quattro all-wheel drive and careful chassis tuning; you can make swift progress in all conditions, secure in the feeling the car will look after you. When the going gets really rough, engage Audi Drive Select and choose the "off-road" driving mode, which alters the engine and gearbox programming to make gentle progress over rough terrain easier.
Interestingly, the Allroad's raised ride height and big, squishy tires made navigating the streets of downtown Toronto easier and more comfortable as well. Given the state of many of our roads, its more compliant setup, relative to its lower, stiffer sedan relatives, actually makes more sense, and sitting higher improves your overall visibility and gives you a better sense of your surroundings. With Drive Select set to "Dynamic," the Allroad is just as quick, thanks to its 252-hp TFSI turbo four, as an A4 S-Line, the engine producing a hearty burble under acceleration while the dual-clutch S Tronic snaps off instantaneous shifts.
Perhaps more impressive than the performance you would expect from any Audi is the level of refinement that the new A4 platform delivers. Larger yet lighter than their predecessors, all new A4s share new lightweight construction techniques, yet deliver a level of quiet and calm that speaks of the smothering embrace of sound-deadening and solidity from cars that are several classes above. The new Allroad, even with its wagon back, is eerily quiet in all conditions, contributing to the sense of calm, ease, and well-being delivered by its light and fluid controls. This is an easy and reassuring car to drive, no matter what the conditions are.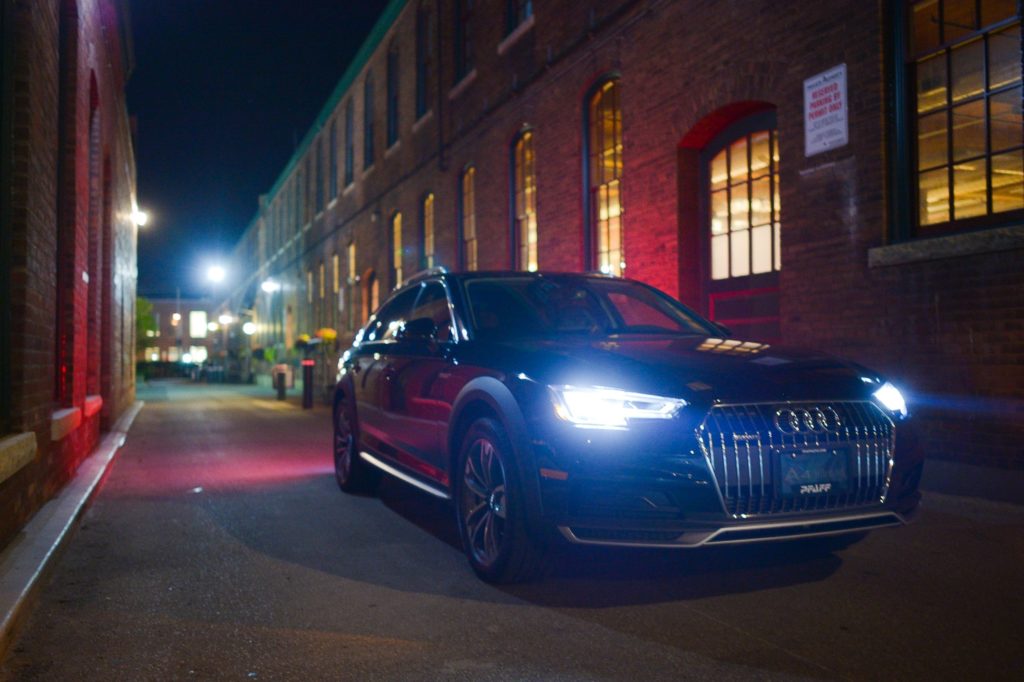 Price
Starting at $47,600 ($51,500 for a Progressiv and $55,300 for a Technik), the new Allroad's comes at a small price premium over an equivalent A4 sedan, but it's a price I would happily pay for its extra any-conditions capability, its quantum leap in versatility, and its even calmer, more luxurious driving experience. I also happen to really like the way it looks, with its intricate wheel design, sharp LED lighting, and jacked-up stance.
Whether this versatile wagon, or a tricked-out S Line sedan with all the goodies, is your thing, one thing's for certain: the new A4 is currently at the top of its class.
Learn more about the A4 and browse inventory at H.J. Pfaff Audi and Pfaff Audi Vaughan.