Living with the McLaren 570S
Blog
May 4th, 2016
If you've been following this space for the last year or so, you've already read a lot about the McLaren 570S, and the unique place it occupies within the automotive sphere. It's a pretty special car, bringing supercar technology and performance to the top end of the sports car marketplace, a car that starts just north of $200,000, yet features a full carbon-fibre central structure, seamless-shift gearbox, twin-turbo V8, and ceramic brakes. You've seen photos of its wild, P1-inspired exterior styling and its stylish interior. And you've drooled over the specs: roughly equivalent power to a Porsche 911 Turbo S, or Audi R8 V10, but with several hundred pounds less to haul around, leading to stunning acceleration times, braking performance, and cornering ability.
All of this, you would expect of a McLaren, with its racing history, carbon-fibre know-how, and obsession with performance and efficiency. But the other major claim that the company makes about the Sports Series is everyday usability. Its carbon tub has lower sills to make it easier to get in and out and its interior is more spacious and has more storage space than the big-boy 650S. To test the company's claim, I spent 48 hours behind the 570S' wheel in Toronto, crawling through traffic, dealing with bad weather, creeping it into downtown parking spots. Having spent some time in a 570S late last year, I already knew that it could deliver driving thrills on the open road, but I wanted to know how it would fare during the regular-car use that may not be part of the McLaren fantasy, but which will be part of its reality for many customers.
What I discovered was that not only does the 570S live up to McLaren's claims, but it actually exceeds them.
The changes wrought to its carbon-fibre MonoCell include a lowering of the sills and a reworked hinge mechanism for the dihedral doors, and it's amazing the difference these two changes have made. The doors still swing up and away in the most exotic, supercar fashion, but not only can they be opened in much tighter parking spots than those on the 650S and 675LT, but their design also creates a wider opening through which to enter the cabin. This, combined with the cut-down door sills, means getting in and out is significantly easier; the car is still very low to the ground, but you can now jump in and out without having to clamber inelegantly over a wide ledge, and are no longer at risk of smacking your forehead on the door when you exit.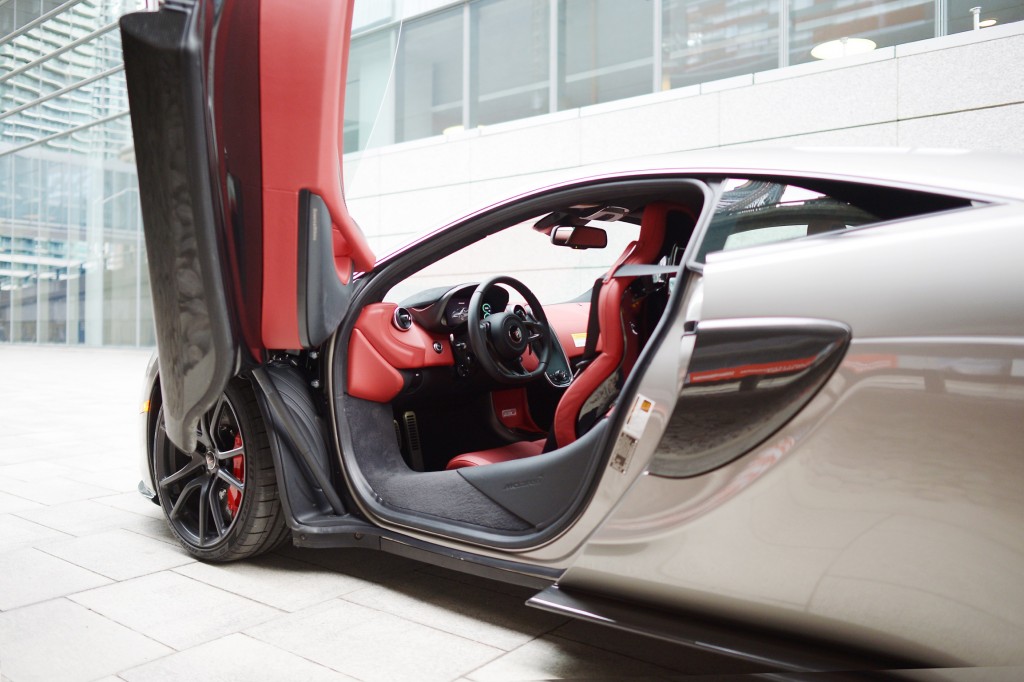 While I actually prefer the simpler overall styling of the Super Series interior, there's no question that the Sports Series, and the 570S, is a more comfortable, practical, well-resolved place to be. The seats have a wider range of adjustment, there seems to be more room on the parcel shelf behind you, and storage space in the centre console is improved, with two cupholders and two practical storage bins. The waterfall-design centre stack, with its portrait-format touch screen, remans McLaren's signature flourish, but it no longer connects the top of the dash to the console, freeing up space for knees and easing access to the storage areas. Visibility, which is so key to placing the car accurately in a high-speed turn as well as into a tight parking spot, is still cinemascope to the front and surprisingly good out back.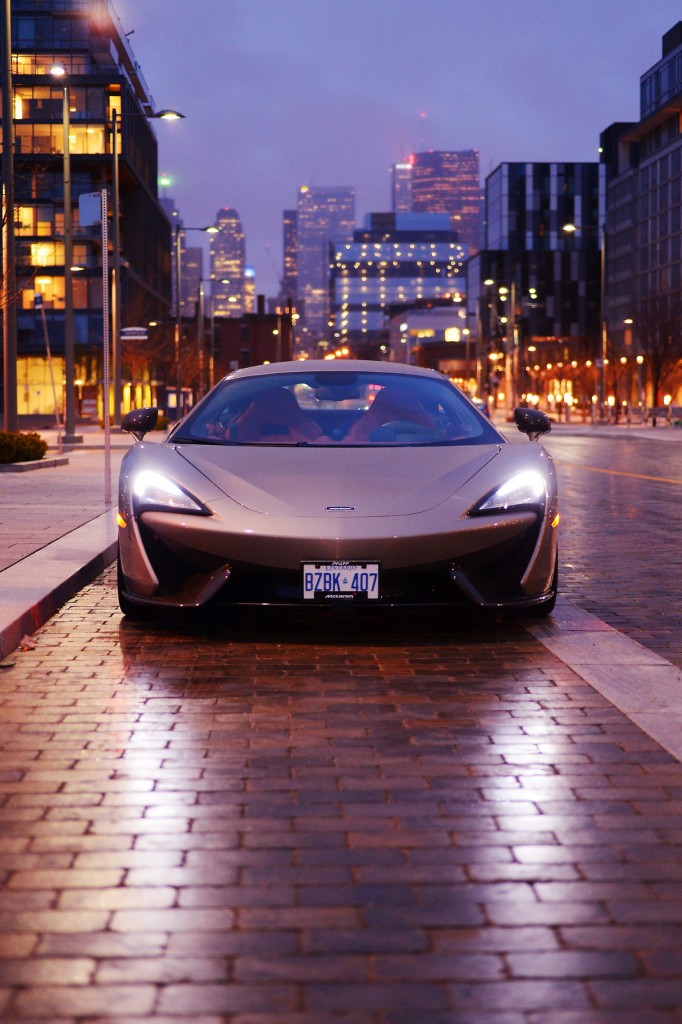 It's only with serious seat time that you start to realize how hard McLaren has worked to make the Sports Series better as a daily driver. The climate control, which is now operated through the central screen, is very effective, instantly clearing the giant, curved windshield when you activate the defogger, and cooling the cabin quickly when you activate the A/C. A new windshield-wiper setup now features two blades and does a brilliant job – far better, in fact, than the more exotic Super Series. The Bowers & Wilkins stereo is incredible, and once connected to your smartphone, streams music seamlessly over Bluetooth, and gives you instant access to all of your directories and playlists. Phone calls over Bluetooth work much better, too – you no longer sound like you're in the eye of a hurricane when on the phone.
The 570S isn't perfect. McLaren is still a relatively young car company – set aside the eight M12 road cars from the sixties, the iconic F1 from the nineties, and they've only been at the road-car game for five years – and some small details are evidence of their relative youth. While the portrait-format navigation system is brilliant (it gives you a far better view of what's ahead of you), actually entering a destination, either with the screen or with your voice, isn't very intuitive. The power seat controls are on the inside surfaces of the seats and not easy to access. And the pinch protection on the windows is overly sensitive.
Probably the biggest impediment to using the 570S as a daily driver, though, is its star power. You may have 570 horses at your disposal, and the ability to rush to 100 km/h in less than three seconds, but every stop for fuel will take you twice as long because people will want to talk to you, and heaven help you if you park up at a busy coffee shop on a weekend. There are some people that still don't know what it is, or what a McLaren is – and you feel obligated to explain to them the company's heritage in carbon construction, its Formula One history, the McLaren F1 road car, the incredible technology packed within the 570. People that know what it is, love it, and want to talk to you about it some more. What is, they ask, it like to drive?
There is, fortunately for them and unfortunately for your schedule, a lot to talk about.
While the 570S may indeed be an everyday super/sports car, it is still something incredibly special, thanks to its construction, its styling, and its technology. And because of those things, it drives like nothing else in its price class, and arguably nothing else on the market. The combination of the incredible lightweight structure, the twin-turbo V8, and the seamless-shift deliver a seemingly inertia-free experience. You want to stop? Press on the brake, and it stops. You want to accelerate? Ease your foot onto the milled-aluminum gas pedal, and you go, faster than almost anything on the road. You want to turn? Roll your wrists, and the front end responds with a shocking immediacy and precision, the narrow front tires locking onto your chosen line and never letting go.
What makes the sense of nimbleness and lightness more remarkable is the fact that the 570S simultaneously feels solid, substantial, and refined. The stiff carbon structure means that, despite the use of conventional suspension with anti-roll bars instead of hydraulic struts, the 570 still rides remarkably well for something of its cornering ability: the suspension can be softer because it's not compensating for a squidgy body. In normal mode, the seven-speed gearbox slides imperceptibly between its gears. Wind and road noise are well-controlled, and at highway speeds in seventh, it cruises like a luxury car. Simply put, the 570's abilities are incredibly broad and deep, its three-step settings for powertrain and handling giving you access to a continent-crushing GT and a pointy, super-sharp road missile in the same package.
McLaren, stung by initial criticism of the 12C's almost clinical perfection, has delivered in the 570S a car with real character. The 3.8-litre V8 revs to over 8,000 rpm and has a thrilling, metallic rasp as well as the whistling and whooshing of the turbos. The heat radiating out of the engine compartment ever-so-slightly distorts your view out the rear. The side-view mirrors, out wide on stand-up stalks, look exotic as well as giving a great view. In track mode, the instrument cluster shows you blue-green-yellow-red indicators for engine, gearbox, and individual tire temperature along with an amusing graphical rev counter. And the guy in the climate control airflow graphic is wearing a helmet, just because.
Look at the 570S head-on, and it looks like its front air intakes and bumper are smiling at you, and its LED headlights, curved into pointy little boomerangs, are winking. No wonder: this is a car whose charisma is impossible to ignore, and whose personality is so engaging that you find it easy to forgive its few, and minor, flaws. It's priced like a few other high-end sports cars out there, but driving it, you feel like you're in something from another world entirely: something better, more intelligent, and more fun.
(Apparently, I'm not the only one that thinks so. 570S orders taken now will result in deliveries in the fall; best get your order in at McLaren Vancouver or McLaren Toronto soon.)