Review: 2017 Porsche 911 (991.2)
Blog
Apr 19th, 2016
Historically, Porsche people have proven to be a crotchety bunch. For over 50 years, every time Porsche has changed the 911, Porsche people have complained that their favourite car has somehow been compromised or ruined with each evolution. This despite the fact that, with every iteration, the car has gotten faster, better-handling, more versatile, and more technically advanced. Porsche people complained when the 964 generation gained ABS, power steering, and intelligible heater controls; they complained when the 996 switched to water-cooling to improve power and exhaust emissions; they complained when the platform got longer and wider when the 991 was introduced.
All the while, Porsche has soldiered on, knowing that the Porsche people would come around. Each successive car was demonstrably better than its predecessor, and the third-party accolades as well as the model's ever-growing sales figures bear that out. But the arrival of the second-generation 991 (I'm going to call it 991.2 for short) is about to set the Porsche people off again. Because, cloaked in what is ostensibly a mid-cycle facelift, it conceals what's arguably the biggest technical change to the 911 yet: downsized turbocharged engines are replacing the roaring, raspy flat-sixes Porsche people have grown to love so much in the last half-century. "Don't take away the 911's legendary buzz-saw sound," they'll be screaming. "Don't screw with the incredible throttle response! We'll leave! And this time we mean it!"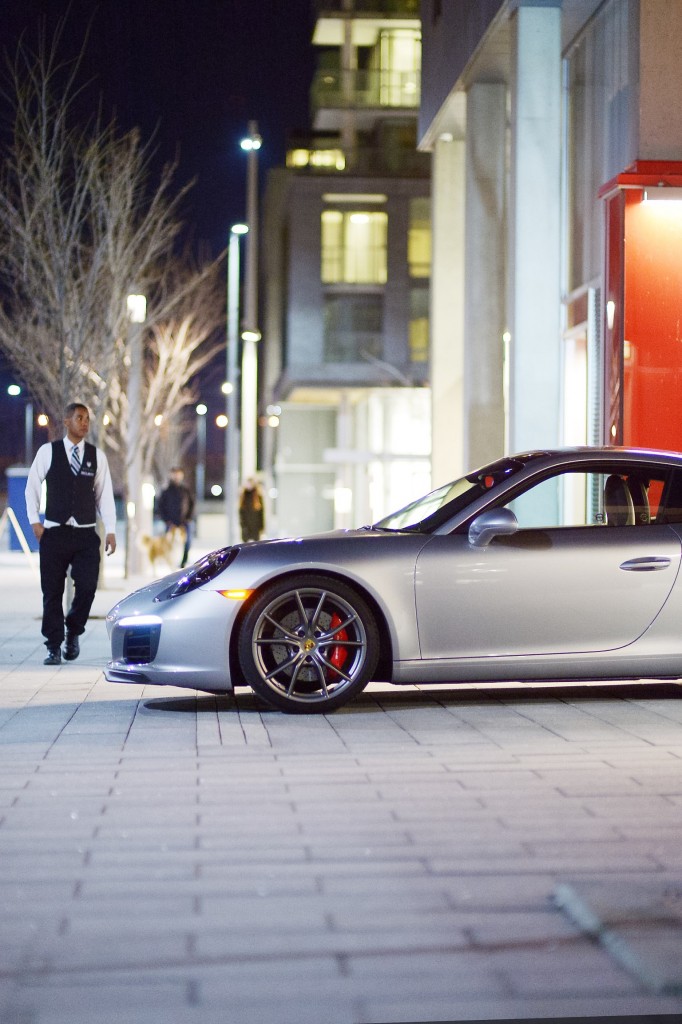 Well, just like with every other major 911 evolution, the Porsche people really don't have anything to worry about. Is the 991.2 substantially different from the car it replaces? Absolutely. But it's also substantially better.
Let's start with the engine. It is, mercifully, still a flat-six, a direct-injected 3.0-litre twin-turbo that comes in two variants, 370 hp in base models and 420 hp in the S, thanks to turbochargers with variable turbine geometry. Air is now sucked into the engine from the revised grille on the rear deck, while the intercoolers live in the corners of the rear bumper. Fire it up, and while the tone is initially more muted, it still sounds very much like a 911 engine – with a thump, slightly clattery idle that reminds you there's some serious machinery back there. Sit there like a 16-year-old and rev it, and the new engine and exhaust arrangement don't sound great, but like most turbocharged engines, it's a lot better under load. The new 911 is, thankfully, no less emotional to run through the gears as before.
With the sport exhaust switched off – I'm not one of those people that will insist that option, with its central twin pipes, is an absolute must – the new 911 is quieter than before, but there's still plenty of sound inside the cabin, and the rich flat-six sound is overlaid by distinct turbo noises – whistles, whoops, and whirs make the aural experience even more interesting than before. More importantly, thanks to the responsiveness of the two tiny turbos, there is no perceptible lag at any engine speed or in any condition. It also loves to rev – put your foot down at any engine speed, and with any degree of force, and the car responds immediately and precisely, ripping to its 7,500 rpm redline. All in all, it's an impressive, impressive piece, and arguably the most responsive turbocharged engine out there right now, the best at delivering an experience that closely approximates natural aspiration.
It is not perfect, and really perceptive Porsche people will find some small things to complain about, until they spend some time with the car and get used to its new behaviour. The primary difference is at low speeds, where, like most turbocharged engines, the engine can sometimes hang on to revs for a fraction of a second after you've lifted off the throttle. For the first day or so, especially with the optional PDK transmission in drive, the 991.2 can feel just a little jerky and uncoordinated around town util your right foot acclimatizes – but until you do so, one of the 991.1's crowning achievements, its comfort and refinement in everyday use, has been slightly eroded.
There is, of course, a lot more to the 991.2 than just its new engines. Refinements to the the rest of the car are small but numerous, and together they add up to a significant upgrade. A new, smaller, thinner-rimmed steering wheel guides the front tires; it, combined, with electric power steering upgraded with lessons learned from the GT3, delivers more feel and even more immediacy (this is further enhanced when you spec the optional rear-wheel steering on S models). Order the PDK, and the shift paddles have a much shorter throw, and the shifter on the console now tips through gears in the correct direction: push forward for a downshift, pull back for an upshift. Wider rear tires on two-wheel drive models give you even more cornering grip to work with, and the brakes are better than ever.
The most fun bit is the new map switch on the steering wheel, which lets you twiddle between drive modes with a flick of the wrist. In addition to normal, sport, and sport plus, it has a new "individual" setting which you can program with your preferred options for drivetrain setup, chassis stiffness, exhaust noise, and even the aggressiveness of the rear spoiler. A new "sport response" switch rests in the middle; pushing it cranks all systems up to DEFCON 5 for 20 seconds when you're in the mood.
Perhaps the unsung hero of the upgrade from 991.1 to 991.2 is one of its more prosaic new features – an upgraded infotainment system. A larger screen (it now has no plastic border) with proximity sensors responds instantly to your touch and its menu structure and logic have been totally reorganized and improved. More importantly, a second USB port in the centre console now gives you access to all of your phone's functionality via Apple CarPlay, making it even easier to find contacts, respond to messages with voice commands, play music and podcasts, and access maps. It is brilliantly easy to use and really sets the benchmark for cars in this class.
All of this new Porsche goodness is wrapped in a package that is at once immediately recognizable as a 911, and also immediately different. While the profile and overall shape of the car hasn't changed, there's been a general sharpening of lines everywhere, from the new, more aggressive front bumper with its 3D-look air intakes, to the simpler, redesigned door handles, new wheels, and the new rear end with its additional vents and outlets. Both the front and rear now feature Porsche's four-point light signature, and the overall feel is of a car that is more technical, more precise, and a little more complicated than before.
The styling, then, is truth in advertising. Like every new 911 before it, the 991.2 is both different and better, and is sure to cause controversy with Porsche people. And like every 911 before it, it'll succeed despite all of that – and still be better at all of its roles than pretty much anything else out there.
New 911s have started to arrive in Pfaff Porsche's inventory. Browse here.