Pfaff Porsche hosts PCA-UCR December Social
Blog
Dec 12th, 2015
Photos: courtesy of Michael Coates.
The Pfaff Porsche December Social has become something of a fixture on the calendar of the Porsche Club of America – Upper Canada Region (PCA-UCR) thanks to its December timing and the great food and drink that Pfaff events have become known for. This year's event was no different in that regard, but it was the biggest club gathering yet, with over 190 guests in the showroom and service drive.
An amazing array or rare Porsches was one major reason the social generated such massive interest. Indeed, Chris Green's 2014 Porsche 911 GT3 Cup race car was the most common car in the showroom, as it was surrounded by a 964 Turbo S slantnose (one of just 76 made), the Pfaff Porsche 50th anniversary 911 Turbo S (created in conjunction with Porsche Exclusive and just one of five made), a 964 Turbo S "package car" (one of just 17), and the highlight of the night, the new PCA-60 Club Coupe (one of just 60 made, and one of only two coming to Canada).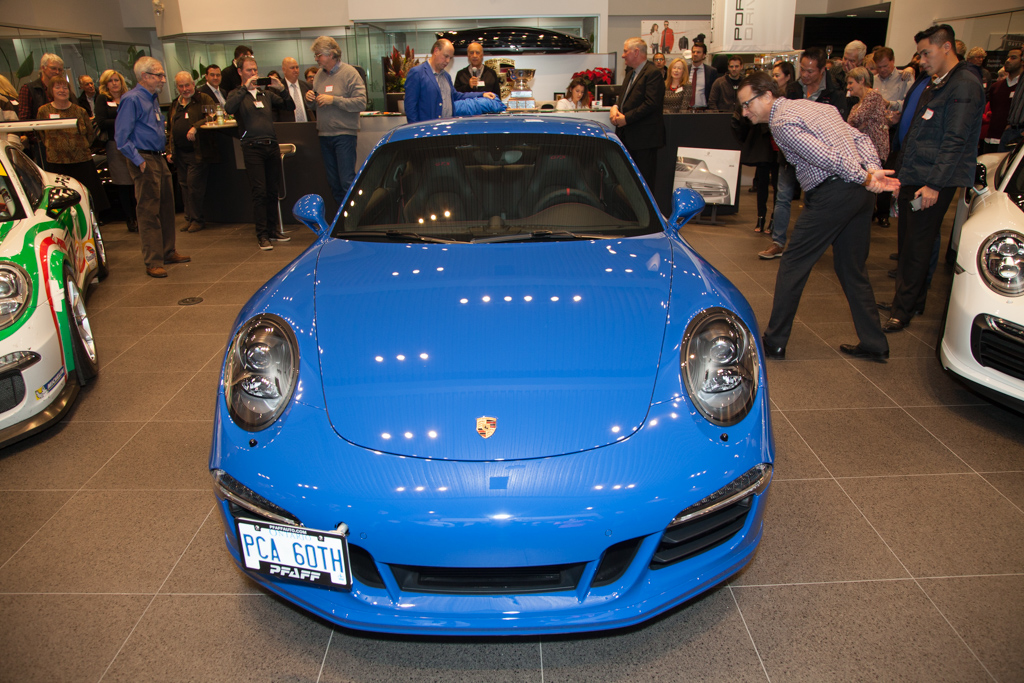 After opening remarks and a prize giving by Pfaff VP of Operations Dave Sambrook – where replicas of Chris Green's car and the 50th anniversary Turbo were handed out among other prizes – UCR president Mike Bryan gave the crowd an update on the Club, which was named Region of the Year by the 100,000+ -strong Porsche Club of America organization. Then, club member Michael Pohlmann, owner of the Club Coupe, told the story of his car along with Pfaff Porsche sales representative Tom Neumann before the car was unveiled in front of the group.
It was a fantastic evening for the club and for Pfaff Porsche. We hope to see you at the next social!