The Pagani Huayra is a seat in the eye of a hurricane
Blog
Sep 25th, 2015
There are basically two ways to build a supercar. The first way is to engineer it for pure speed: pack it with the latest technology, use extensive wind tunnel time to sculpt it to scythe through the air, fit it with every mechanical and electronic aid possible to make it even faster on the road and track. These cars, like the McLaren P1 and Porsche 918 Spyder, are wonders of engineering and aerodynamics, and they point the way for the future of the sports car.
A second way is to design a car to excite the same senses and emotions that you probably first experienced when you developed a passion for cars as a child. Give it an outrageous shape with wings and flaps and scoops, throw on massive wheels and tires, fit an over-the-top powerplant, and give it lots of exhaust pipes. Then garnish with a luxurious interior, and sprinkle the whole confection with jewel-like details that drop your jaw every time. These cars are still insanely fast – they have to be, to be considered a supercar – but they're about drama, rather than speed; emotion rather than making the numbers.
No guesses as to which type of supercar the Pagani Huayra is. It looks like something that sprung, fully-formed, from the notebook of a teenager that found math class too boring. It is impossibly long, low, and wide, the tiny side and rear windows of its teardrop-shaped cabin defined by a carbon-fibre bikini that terminates abruptly with four machine-gun exhaust pipes at the rear of the car. The rear tires are so wide – 335mm, on 20-inch deep-dish alloys – that from some angles it seems like they'd meet in the middle. The mirrors are mounted to the top surfaces of the front fenders on delicate curving stalks, and are shaped like a pair of female eyes. The doors, in the best emo-supercar tradition, open like a pair of gull's wings.
Most supercars, particularly from this tradition, do these things – the broad sweep of emotional curves, the big wheels, the "doors of a billionaire" – well. Where most of them fall down is the details: get closer and you start to notice where materials aren't quite up to scratch, where corners have been cut, where parts from other, less-expensive vehicles have been used. Developing and manufacturing any car is an expensive endeavour, and it's often the small, but often-used bits, things like window switches, turn signal stalks, and door handles, that are the most complex to develop.
The Huayra's different. It's a supercar that gets better, and more interesting, the closer you look. The attention to detail is simply insane, and if anything, the details are even more evocative than its overall shape. Those gullwing doors open not with some handles stolen from a $20,000 econobox, but by milled aluminum levers, topped with a rubberized grip and recessed into little crescents in the bodywork. Opening the front and rear clamshells is a two-step process, requiring the unbuckling of leather straps whose colour, texture, and stitching, is matched to the interior, before operating similarly-exquisite latches. The front clamshell's sole function – there is no storage compartment under there – seems to be to expose Pagani's beautiful central hinge design, milled out of blocks of aluminum and titanium, which supports the massive piece of carbon on two delicate struts. There are so many details, almost all of them completely unnecessary – but almost all of them so beautifully executed.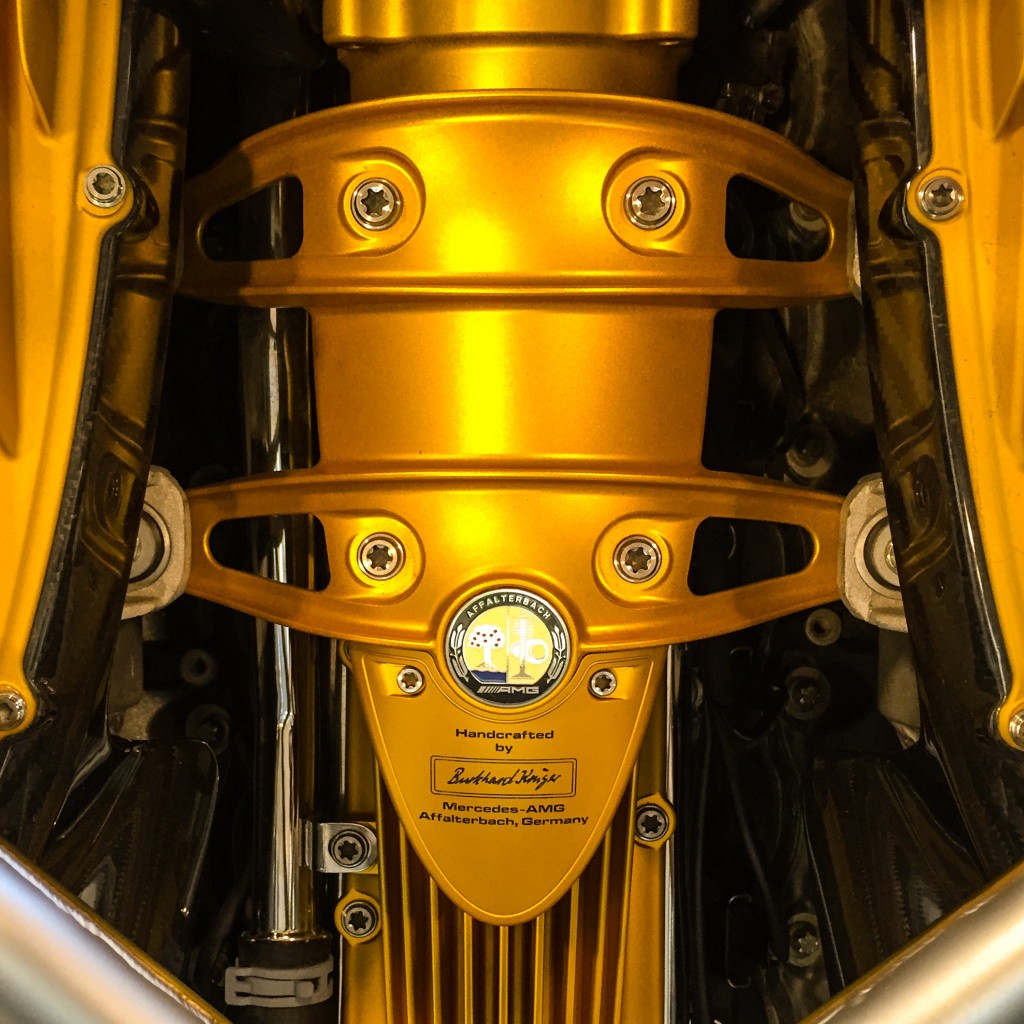 Under that rear clamshell nestles a 6.0-litre, twin-turbocharged V12 engine produced by Mercedes-AMG in Affalterbach. There are just two master engine builders that construct the hand-built, 730-hp, M158 motor from beginning to end. Like everything else on the Huayra, the finish on it is exquisite, topped with carbon-fibre cam covers and brass-coloured trim. It delivers its power exclusively to the rear wheels through a seven-speed, automated single-clutch XTrac sequential gearbox.
Fire the Huayra up – did I mention the key is milled from a solid block of aluminum, and costs 3,700 euro to replace? – and it sounds subdued from inside, a gentle, rumbling backbeat over your shoulders. Given that you're dealing with a racing gearbox, it also pulls away with surprising civility, with no juddering or hopping from the single clutch. At low speeds, a button on the dash raises the front end of the car in a couple of seconds to clear steep driveways and speed bumps, the steering feels natural, and the gas pedal has a nice, long, progressive travel. Given the carbon tub and technology that is willfully analog – there's no electronically-adjustable suspension, a single shift speed, and 738 lb-ft and rear-drive – it's not at all temperamental to drive, it's easy to see out of (the front, at least), and those stalk-mounted wing mirrors make threading its wide hips through traffic easy.
Overall, at lower speeds and smaller throttle openings, the feeling is of a really solid, well-engineered car, with none of the high-strung, fragile feel you might expect from something whose production run is just 100 cars, and which weighs just 1,350 kg dry. It's hard to understate how stunning an achievement this is – especially when you consider that Pagani went to the considerable trouble and expense of creating their own touchscreen infotainment system. (Not only will it pair with your bluetooth phone as easily as anything on the market, and operate those wing mirrors, but it also pumps out clean, clear sound through the exotic Sonus Faber speakers in the doors and parcel shelf).
Don't let the low-speed civility fool you, though. Roll into the gas, and it's a proper, old-school roller-coaster ride that makes your eyes jump out on stalks, that raises the hairs on the back of your neck, and that is an excellent substitute for a couple of shots of espresso in the morning. If you're a bit too aggressive, you'll quickly overwhelm those rear P Zeros, and if you hold the throttle open while snapping into the next gear, the rear end will do a little dance to remind you how much power it's putting down. At anything other than a cruise, the Huayra is a very lively car indeed, requiring your full concentration and involvement. While I wouldn't call it difficult to drive, what it delivers is certainly the opposite of the smoothed-out, digitized experience many carmakers are now defaulting to.
And the noise! As that twin-spark V12 lights up its turbos, the engine note goes from that distant rumble to a full-on hurricane, a deep, throaty roar overlaid with an incredible whoosh of intake, crackles and pops from the exhaust, and the whistling of the wastegates. AMG, probably more than any other manufacturer in the world, knows how to make a turbocharged engine sound great, and this is the greatest of all of their engines, its sound and power delivery so big, rich, and full of charisma that it totally dominates the driving experience.
The surge of power, the feeling of a storm gathering behind you with every twitch of your right toe, is hugely addictive – so much so that in all that excitement you don't even notice the instantaneous gear changes, rock-solid ceramic brakes, and beautifully-weighted steering.
Driving a Huayra is addictive for other reasons, too. If you like being the centre of attention, it turns you into a rock star wherever you go: teenagers will stalk you with telephoto lenses from across parking lots, pedestrians will treat themselves to selfies beside it, and everyone will want to be your best friend.
If, like me, you're a bit of a shrinking violet but still love to drive an awesome car, you'll take it out at night, where you'll revel in the quirky opulence of its interior. The overall ambiance, with its combination of hand-finished leather (that'll only get more interesting to look at and comfortable in time), exposed glossy carbon, and solid milled aluminum, is a curious mix of boudoir and discotheque. It sounds tacky – and it is, if you dig into the touchscreen's menus and set the lighting ambiance to "random." But actually, with the big glass, LED spotlights, and the way reflections from outside dance over the surfaces, it's spectacular. It shouldn't work, but it does.
Kind of like the rest of the car, then.
Looked at objectively, there's so much about the Huayra that's wrong – or at least, unnecessary. More modern supercars will outrun it to 100 km/h, for far less money, and frankly, with far less effort from behind the wheel. It presents us many solutions to questions nobody asked, such as "why don't we make a manual height adjuster for the seat that most people think looks like a sex toy?" It puts things on show – the 64-piece shifter mechanism, for instance – not because they need to be there, but because they're another opportunity for something to look really cool. And the perfection of every one of its details, like the titanium bolts with the Pagani logo laser-etched into them that cost $70 a piece – give the whole thing such a precious air that you don't want to drive it and get it dirty.
But to not drive it would be a shame, because, in so many ways and on so many levels, the Huayra is the car of your twelve-year-old dreams made unbelievably, 1:1-scale real. It has the wings, the scoops, the weird, over-the-top details that you wanted as a child, executed to minute, Swiss-watch perfection. It drives with all of the over-the-top drama that you fantasized about when you were a child, a cyclone of turbo noises, screeching tires, and an intent-looking driver behind the wheel. It's a totally immersive, interactive experience, and there's nothing quite like it, at any price.
Is the Pagani Huayra the best car I've ever driven? Probably not. Is it the most exciting? Most definitely yes.