Chris Green and Orey Fidani win both GT3 championships
Blog
Aug 31st, 2015
Chris Green and Orey Fidani clinched the Platinum and Gold drivers' championships in the Ultra 94 Porsche GT3 Cup Challenge Canada by Michelin with smooth, composed drives to the podium in the season finale at Canadian Tire Motorsport Park.
It was the first Platinum Cup championship for Chris in the No. 9 Pfaff Motorsports Porsche, in his third full season in the class. He held off Daniel Morad by five points, 170-165.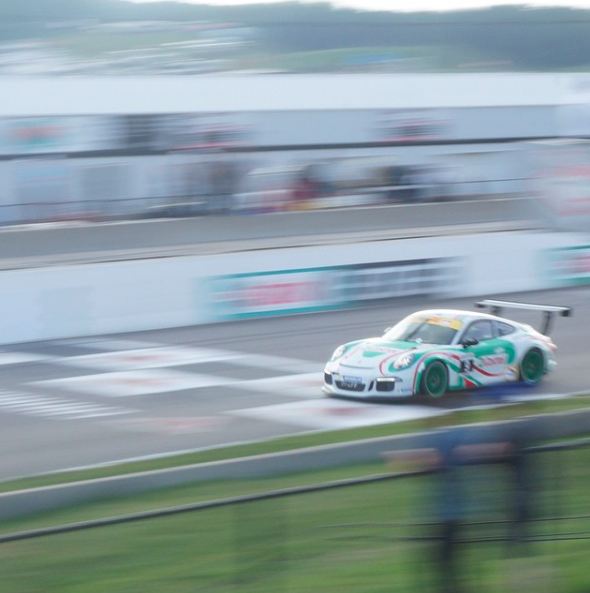 "This is it," he said. "It hasn't really hit yet. There was so much hard work by the Pfaff guys, Castrol backing us 100 percent all season. My entire team is composed almost completely of full-time employees from Pfaff, except for my engineer and chief mechanic, and everybody has given their 110 percent this year. So the least I could do was bring home the championship for them! I'm so proud of them, so proud of everybody involved, from Chris Pfaff all the way down to the people taking care of my tires. Everybody has such an important role in this series, for myself and for Orey. We're on cloud nine right now."
Orey Fidani, from Woodbridge, won the Gold Cup title by just two points, 170-168, in the No. 13 Pfaff Motorsports Porsche over fellow series rookie Michael de Quesada.
"I'm just ecstatic, really excited," he said. "I didn't really expect this coming into the beginning of this year. But, hey, hard work and driving smart pays off. This series was everything I thought it would be and probably a little bit more."
Pfaff Motorsports also won the Gold Cup Team Championship, taking the title in its second season as an independent team, 172-168, over Alegra/Porsche Centre Oakville Motorsports.
The final weekend of the championship was all about consistency and driving smart – while both drivers wanted to fight for every place, they both knew that driving consistently and always finishing with a strong points score was the key to winning the championship. After wins at the beginning of the season at CTMP, they were consistently on the podium throughout the season, maintaining their leads right to the last race.
An example of that was in the final race, when Orey, who was running second, ceded his position to a hard-charging Carlos de Quesada. He passed Fidani for second with eight minutes left in the race, but Orey knew he only needed to finish third to clinch the championship. So he stayed calm and kept his Porsche 911 GT3 Cup car on track to the finish.
"I saw him closing in on me, and I couldn't hold him off," he said. "I just figured let him by instead of making a mistake myself and have something go worse. I just took the third position. It was enough to hold the championship. I just played it smart."
It was the same for Chris, who was very close to the #22 car of Daniel Morad at the end of the race.
"I had a taste for him," Chris said. "I just wanted to see if there was an opportunity. But Daniel didn't make any mistakes, not big enough for me to have an opportunity. All through the season, I've remembered to behave and just finish on the podium – and don't worry about making moves or passes. We just really stuck to our game plan. It's been our script since the first race of the year. We could have written it in a book and presented you the book today, and it would have worked out exactly how it did today. I'm just so proud of everybody involved."
Visit the Pfaff Motorsports website for news about this season and more!