Demonstrating Porsche hybrids in Kitchener/Waterloo
Blog
Jul 2nd, 2015
"Porsche makes hybrids?"
That's the one thing I hear most during a day at a recent EV (electric vehicle) test drive event at the University of Waterloo's David Johnston Research and Technology Park. Throughout the day, which is booked wall-to-wall with 15-minute test drive opportunities in vehicles from Nissan, Mitsubishi, Tesla, and General Motors, that's the thing we hear most. Even some of Canada's brainiest engineers, software developers, and engineering students haven't heard that Porsche builds hybrids – and some of the most sophisticated hybrids on the market.
Which is why we're here with our friends at Porsche of London with a Cayenne and Panamera S E-Hybrid, two of Porsche's newest and most high-tech family vehicles. Both are powered by supercharged 3.0-litre V6 engines paired with powerful 95-hp electric motors juiced by lithium-ion batteries. Both have eight-speed automatic transmissions that allow shifting even when you're in pure electric mode. Both are way faster than you'd expect of any hybrid – though as fast as you would expect any Porsche to be. And both feature levels of fit-and-finish, and overall polish, that even the impressive new Tesla P85D lacks.
The event was supported by AutoChargers.ca, who supplied a charging station where we plugged the vehicles in over lunch. Both Porsche hybrids (and the 918 Spyder) use an industry-standard charging port, meaning you can use any public charging station to juice up.
That these two Porsches are fast doesn't really come as a surprise to anyone who hops in the driver's seat for a stint behind the wheel – people expect speed and power from a Porsche, and that's the reason that our test-drive schedule is the busiest of the day. What shocks everyone, though, is the level of refinement that both vehicles deliver, the silence and comfort that come alongside tire-scorching performance. That impression is helped by the fact that both vehicles set off from a cold start in pure electric mode unless you ask otherwise, meaning that (even under hard acceleration) all you hear is the distant roar of the tires, with no noise coming from the engine room or exhaust.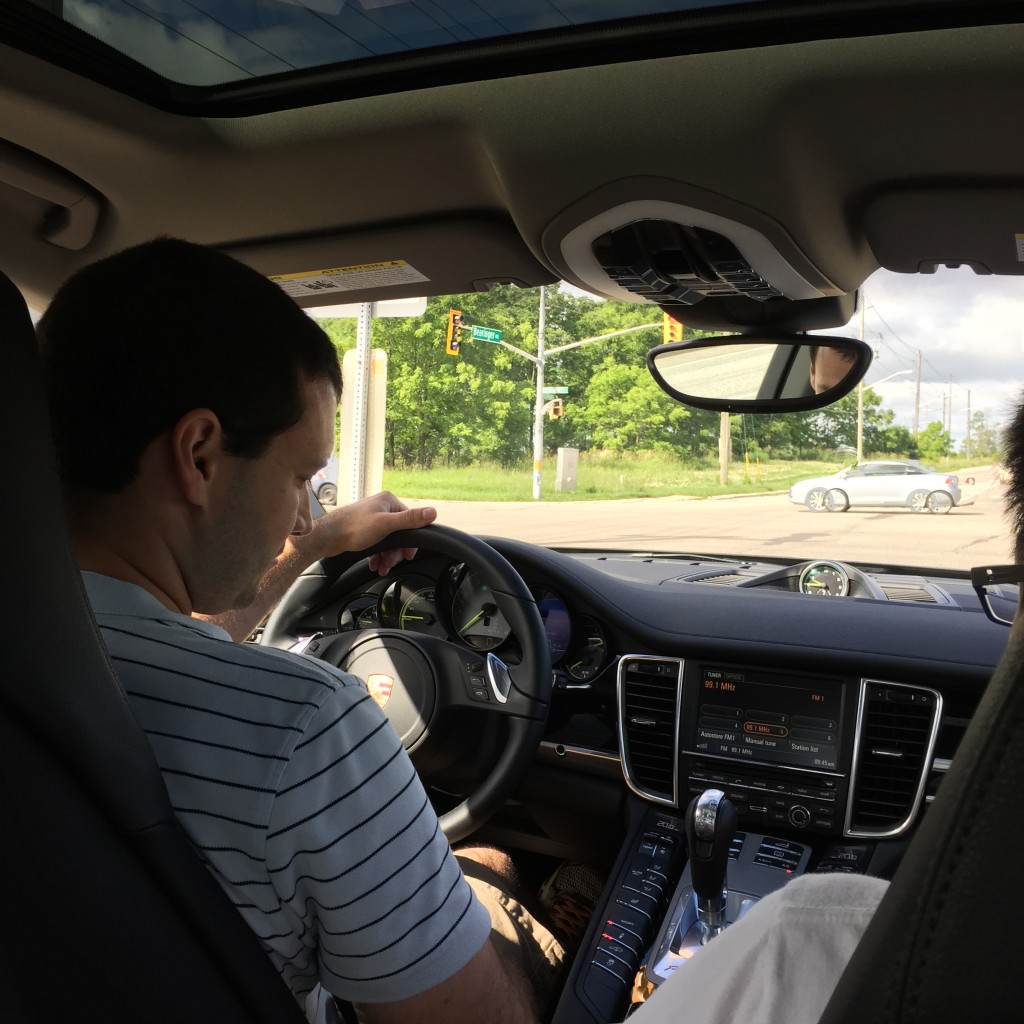 Of course, lay into the gas pedal, particularly in sport mode, and both the Cayenne and Panamera will take off like a scalded cat. On the sleepy roads around the Technology Park, the silence and smoothness with which the two vehicles loft themselves up to impressive speeds takes a few drivers by surprise, and we have to tell them to check the digital speedometer and slow down a bit. Numerous roundabouts and a few long sweepers allow them to test the cars' handling a bit, and they all come away impressed by how small and nimble the cars feel, despite their interior space and exterior bulk.
Range is a topic that comes up a lot, particularly as Tesla's there demonstrating their latest models. In pure electric form, neither Porsche can come close to the P85D, whose entire floor is a battery, and which comes with no option of gasoline propulsion. But even the longest-range Tesla can't quite do the Toronto-Montreal trek without a stop at a charging station (and even at a Supercharger, you're waiting half an hour instead of a couple of minutes for a tank of gas). But event participants universally praised the two Porsches' gorgeous interiors as the nicest in any electrically-powered vehicle they'd ever seen.
While it's true that not a lot of people will walk into the front door of a Porsche dealership looking to buy a hybrid, events like this give us a chance to promote the incredible technology that comes in every Porsche – and introduce the brand to a whole new group of drivers, people who'd never have considered a Porsche before.