Audi Sportscar Experience at Sonoma Raceway
Blog
Jun 18th, 2015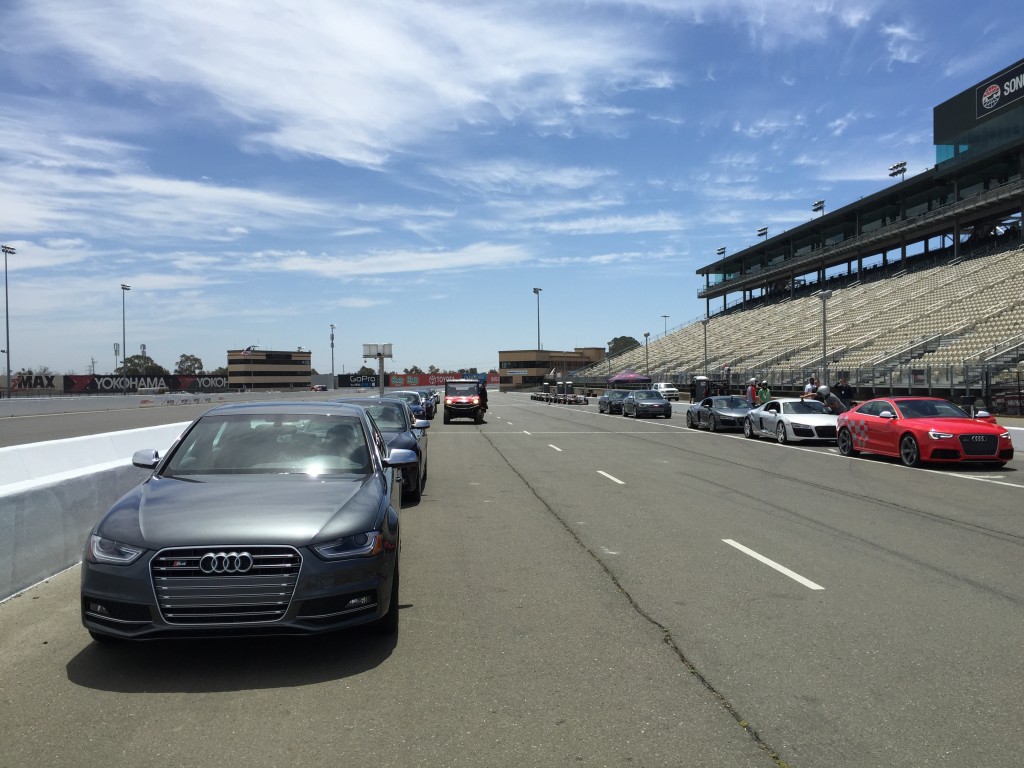 The instructors call the 12 turns and 2.5 miles of Sonoma raceway a real driver's track – it's 2.5 miles of undulating pavement with major elevation changes, blind corners, and tricky sequences that mean you're always busy behind the wheel. With just one long straightaway, the instructors also point out that it's a track where a car has no place to hide, where a vehicle's dynamic issues are exposed almost instantaneously as you work your way around its 12 corners.

When a handful of us from Pfaff Audi Vaughan and H.J. Pfaff Audi Newmarket descend on Sonoma, the track is also in the throes of preparing for drag races and drifting competitions that evening, as well as a major NASCAR race on the weekend. It's a busy place, but the highly technical road course is also the perfect west coast home for Audi's Sportscar experience. The program, which lets you experience a variety of its high-performance models, in Sonoma's paddock and on its big road circuit, runs for almost 135 days a year and offers a number of packages, from an introductory autocross program starting at under $250 through to a full-on advanced R8 program that offers one-on-one coaching that runs $3,000.
We were enrolled in the Audi Sport program, which provides a taste of the TTS, S4 and S5, and used both the paddock and racetrack to hone our skills. Costing just under $1,000, it's the perfect place to start if you enjoy high-performance driving, but don't consider yourself a track master.
After a quick breakfast and instruction session in the combined classroom/lounge area (nothing too heavy, which is smart when you'll be throwing cars around all day), we proceeded to Sonoma's massive paddock to refresh our skills on a five-cone slalom and cornering exercise.
If you've done a slalom before, you might find the Audi instructors' approach slightly counter-intuitive: even though you can see a nice straight line through the cones that will allow a very fast time, they encourage a very wide approach to the first gate, progressively tightening your lines as you work through the course. While it sacrifices ultimate speed, it is a terrific tool for teaching the proper approach to corners in the next exercise – a big, sweeping corner tackled at high speed – as well as on the racetrack. After our group drove the slalom several times and took the instructors' directions to heart, the next exercise was a lot easier: wide approach, look right through the turn, late apex, fast exit.
Before lunch, we headed out onto the track for some familiarization laps, something the instructors told us would be done at a "painfully slow" pace. Nothing could be further from the truth; after a lap of getting to know the lay of the land, our group leaders turned up the pace, showing us how to drive the course on the correct lines as we moved faster and faster. By the end of the half-our session, we were exhilarated, but also surprisingly fatigued; the levels of concentration required for high-performance driving are substantial.
Lunch for the group was off-site, allowing the Sportscar Experience to showcase some other Audi models, including the S6, S7 and S8, which were used as fast road shuttles for participants – in addition to on-track programs, road tours are also available.
A light lunch at a fresh, local cafe left us recharged, energized, and ready to tackle two afternoon sessions where our platoon of participants was broken into smaller groups by speed and level of experience. With one instructor assigned to just two participant cars, each group was able to travel at a pace they were comfortable with, and allowed their instructor to keep a close eye on their technique, coaching them through all of the turns. Over the next couple of hours, it was amazing how much faster, smoother, and more competent we got behind the wheel; turns out that the pre-lunch session, as exhilarating as it was, really was done at a snail's pace compared to the speeds we were now achieving.
While a 3:00 end to the day may seem quite early (especially given the bright California sunshine and the long evenings), it was, in fact, exactly the right thing – by the end of the program, we were all going much faster than before, but were getting close to that point where fatigue was once again starting to set in. Some one-on-one time with the instructors in the classroom followed, along with a certificate presentation, and a ride back to our hotel along the beautiful, but traffic-clogged Sonoma roads.
It was, to put it simply, a pretty perfect day, and it's one you should experience, whether or not you're an Audi owner.
And while you can register online for the course yourself
, we recommend you join us on one of our Pfaff Audi programs in the near future – where we integrate driving programs at the Audi Sportscar experience with superb hospitality in the best area hotels as well as fantastic food and drink.
Click here for more information
.
We'll be reviewing the vehicles used in the Sportscar Experience in the coming days. Watch this space for more!