BMW Alpina B7: the ultimate 7 Series
Blog
Apr 10th, 2015
Alpina, a small, high-end automotive manufacturer located in the Bavarian town of Buchloe, has been closely allied with the BMW factory for over 50 years – building special automobiles for connoisseurs, people with a exceptional taste, people who enjoy the feeling of exclusivity and who also have a passion for state-of-the-art technology.
Unlike most "tuning houses," Alpina's close and collegial collaboration with BMW pairs the series manufacturer with an exclusive automobile manufactory where craftsmanship is successfully combined with advanced technology, resulting in exceptional products of the highest quality.
These characteristics find their ultimate expression in the B7 Bi-Turbo, which blends a high-performance drivetrain with a well-balanced chassis and an exquisite interior. Based on the supreme 7 Series sedan, the B7 ups the ante in design, interior fittings, performance, and handling.
Powered by a 4.4 Liter V8 with twin turbos delivering 540 hp, the B7 is capable of achieving astonishing performance figures, accelerating from 0 to 100 km/h in only 4.6 seconds and reaching a top speed of 312 km/h. The all-wheel drive system allows delivers traction and active safety in every driving situation. BMW's xDrive system, with its dynamic distribution of drive power, continuously distributes torque between the front and rear axle within milliseconds. Electronically adjustable suspension and active roll stabilisation will satisfy both sporting and comfort drivers, while Alpina's signature multi-spoke alloy wheels and high-performance tires deliver superb cornering grip.
Small and stylish details round off the identity of this car's interior. This includes door sills, metal emblems in the seat backrests and in the floor mats, and an exclusive production plaque with model-specific build number. The hand-finished ALPINA sports steering wheel features parallel stitching in traditional in Blue and Green, with ergonomic SWITCH-TRONIC shift buttons integrated neatly into the rim.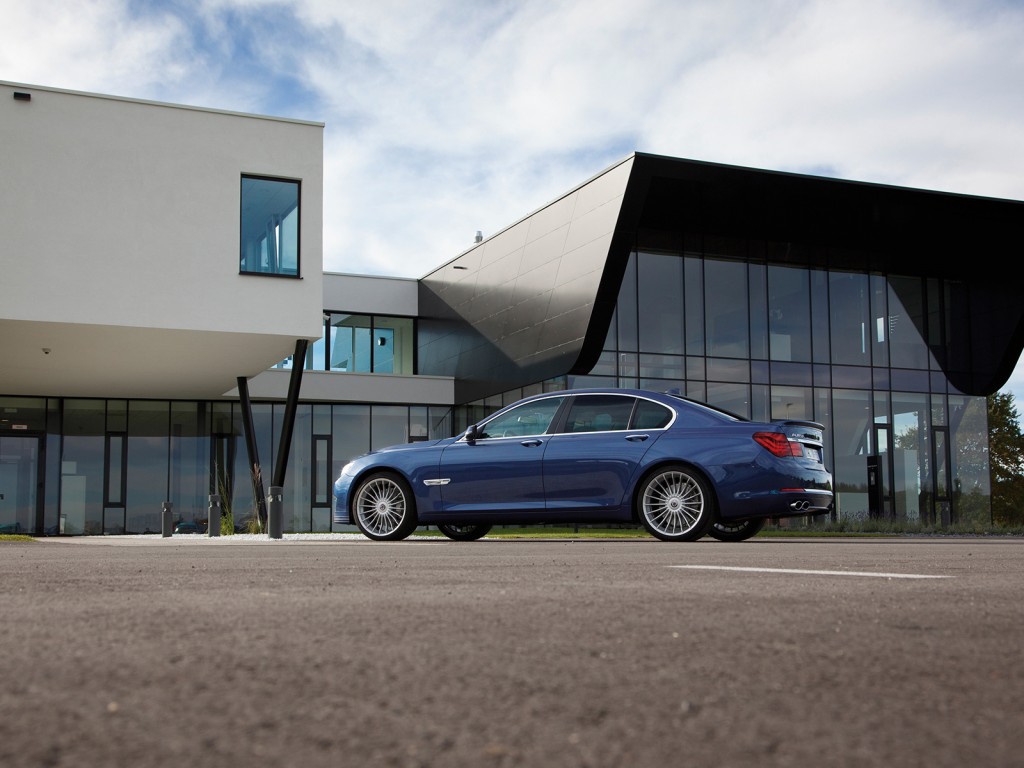 The crowning touch? The ALPINA instrument cluster, characterized by a design whose features have a long tradition of over 20 years: red needles provide a perfect contrast to the subtle blue background of the round instrument faces.
Any BMW 7 Series is a special car. The Alpina B7 is for those for whom the 7 Series isn't special enough.
Click here to see this car's specifications.